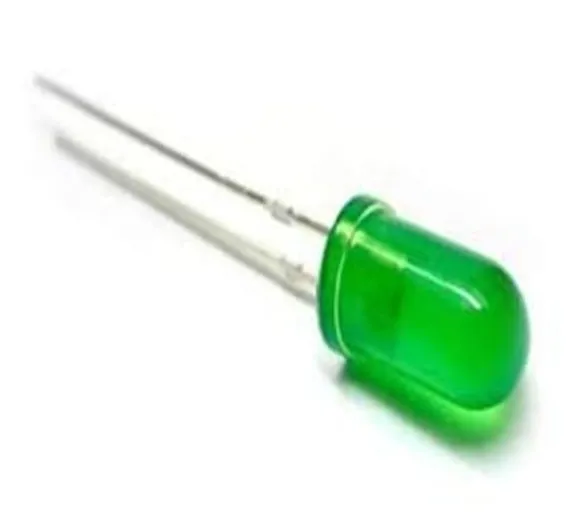 LEDs & IR
5mm Green Diffused LED Light Emitting Diode
SKU: SB 45, D24,TMD1000,Th200,KRT
5mm Green Diffused LED Light Emitting Diode is a semiconductor light source that emits light when current flows through it. Green Diffused LED Light electrons in the semiconductor recombine with electron holes, releasing energy in the form of photons. The colour of the light (corresponding to the energy of the photons) is determined by the energy required for electrons to cross the bandgap of the semiconductor.
Features of 5mm Green Diffused LED Light Emitting Diode:
Ideal for colour displays, indicators, diagnostic or analytical equipment and etc.
Product usually is used to solder on the PCB board as an indicator light.
Easy to install and easy to use.
Low power consumption but high light intensity, nice reliability, long mechanical life.
Specifications of 5mm Green Diffused LED Light Emitting Diode:
Dimensions: 5mm Round LED
Size (Diameter) : 5mm
Colour: GreenLight Colour
(ElectroStatic-Discharge) ESD=3000V
(Operation Temperature Range) Topr= -25C ~ 80C
(Storage Temperature Rage) Tstg= -40C ~ 100C
(Soldering Temperature) Tsol= 260C (5sec)
Package Includes:
1 x 5mm Green Diffused LED Light Emitting Diode
SKU:

SB 45, D24,TMD1000,Th200,KRT

/
Category: Displays
/