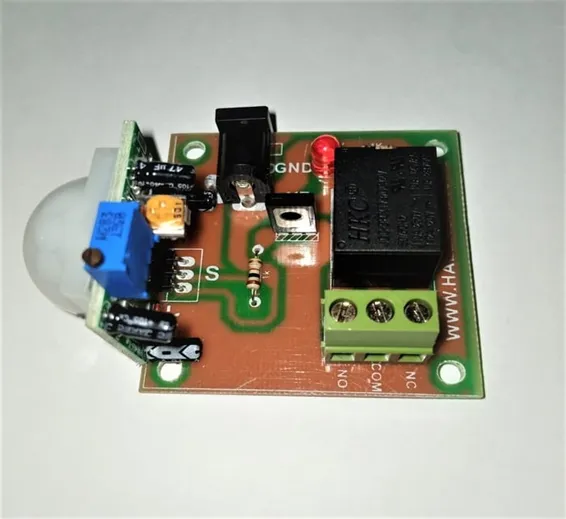 Sensors
12V PIR Motion Sensor Switch
Availability:
Out Of Stock
SKU: B 191,,D110,IMP100,Th50,KRT,N141
Ready to use PIR Motion Sensor Switch in Pakistan Input Voltage=12v output = 12v/220v / 3A A passive infrared sensor (PIR sensor) is an electronic sensor that measures infrared (IR) light radiating from objects in its field of view. They are most often used in PIR-based motion detectors.
Applications:
Security Products
the human body sensors toys
the human body sensor lighting
industrial automation and control, etc.
It can automatically and quickly open various types of incandescent, fluorescent lamps, buzzer, automatic doors, electric fans, automatic washing machine, and dryer
Machines and other devices is a high-tech product. Especially suitable for enterprises, hotels, shopping malls, warehouses and family aisles, corridors and other sensitive
Sense of region, or for the security zone automatic lighting, lighting and alarm systems.
Specification Of 12V PIR Motion Sensor Switch:
Operating voltage range: DC 12V
Quiescent Current: <50uA Trigger: L can not be repeated trigger/H can be repeated trigger (Default repeated trigger)
Delay time: 5-20S(adjustable) the range is (0.xx second to tens of second)
Block time: 2.5s(default)Can be made a range(0.xx to tens of seconds
Angle Sensor: <100 ° cone angle Lens size sensor: Diameter: 23mm (Default)
Board Dimensions: 32mm*24mm
Weight: 40g
Package Includes:
1 x 12V PIR Motion Sensor Switch
Best Online Shopping website for 12V PIR Motion Sensor Switch in cheap price in Karachi, Lahore, Islamabad, Rawalpindi, Sukkur, Peshawar, Multan, Quetta, Faisalabad and all over Pakistan.