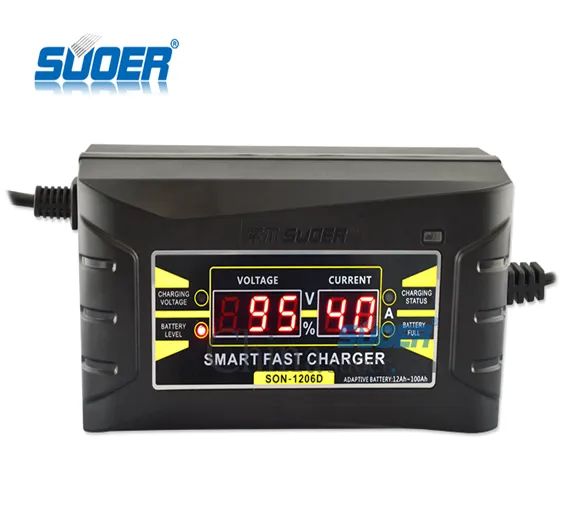 Features:
Max charging current:5-
6A
Rated input voltage:110-240V
Adopt PWM charging mode,auto stop charging when the battery gets fully charged
Charging voltage/Battery capacity/Charging current LCD real-time display
Online battery detection
Applicable for gel battery and lead-acid battery
Specifications:
Product Name
battery charger
6A
Model
SON-1206D
Input Voltage
110V-240V
Output Voltage
12V
Rated Frequency
47-63HZ
Charger Current
6A
Charger Mode
Three-phase
Full load efficiency
≥ 87%
Working Temperature
-40~+95 ℃
Only applicable to battery
≥40A
Certification
ISO,CTA,CE
Video Tutorial:
Three-phase
charging mode
Constant current mode: When the voltage of the battery is lower than the value set by the charger, the charger will work under the constant current mode and supply the constant current for the battery.
Constant voltage mode: Using the pulse width modulation(PWM) tech to control the charging current and output voltage of the charger which ensures the battery is fully charged and avoids over charging.
Floating charge mode: When the voltage of the battery is approaching the value of the constant voltage mode, and the current will cut down to the given current gradually, that means the battery power is full, then the pilot lamp will turn green and the fan will stop working. The charger will turn the mode into floating charge mode automatically. At this moment,the battery can be stopped charging or keep on floating charge for half an hour.
Product Images:
Package includes:
1x
12V
6A
Portable Car Battery Charger With Digital Display (Son-1206d)