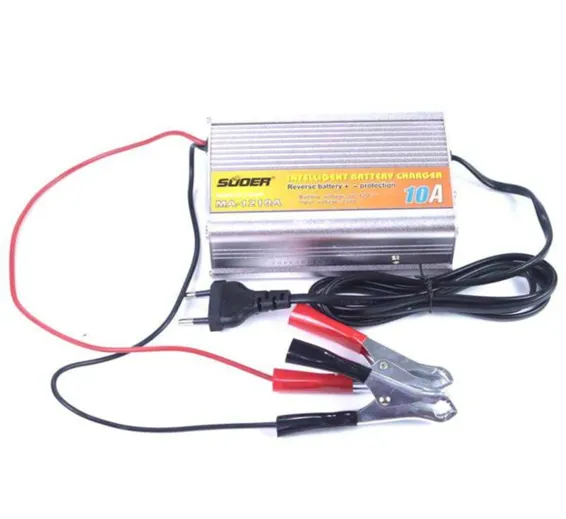 12V 10A Car Battery Charger MA-1210 is professional design according to the power battery of electric vehicles equipment. This MA1210 12v battery charger uses the advanced soft switch technology, with small size, high conversion efficiency. This portable car battery charger has running full loading for a long time, stable output current, high reliability, long service life, easy operation, etc. With short-circuited protection, low-voltage protection, over-heated protection. The long delay digital counter can ensure the automatic car battery charger from the constant voltage to the float charge reliably every time.
Features Of 12V 10A Best Car Battery Charger MA 1210:
High performance and good stableness.
Suitable for inverter battery for charging.
Direct Cigarette lighter connection.
Smart and convenient for carrying.
Universal socket, suitable for all kinds of plugs.
Specifications Of Intelligent Battery Charger MA1210:
Model: MA-1210A
Input Voltage: 220V-240V
Output Voltage: 12V
Charger Current: 10A
Certification: ISO, CTA, CE, RoHS
Weight: 0.6kg
Three-Phase Charging Mode:
Constant current mode: When the voltage of the battery is lower than the value set by the charger, the charger will work under the constant current mode and supply the constant current for the battery.
Constant voltage mode: Using the pulse width modulation(PWM) tech to control the charging current and output voltage of the charger which ensures the battery is fully charged and avoids overcharging.
Floating charge mode: When the voltage of the battery is approaching the value of the constant voltage mode, and the current will cut down to the given current gradually, that means the battery power is full, then the pilot lamp will turn green and the fan will stop working. The charger will turn the mode into a floating charge mode automatically. At this moment, the battery can be stopped charging or keep on floating charge for half an hour.
Package Includes:
1 x 12V 10A Reverse Polarity Car Battery Charger MA-1210
Best Online Shopping website for 12V 10A Reverse Polarity Car Battery Charger MA-1210 Fast Best Battery Charger in cheap price in Karachi, Lahore, Islamabad, Rawalpindi, Sukkur, Peshawar, Multan, Quetta, Faisalabad and all over Pakistan.