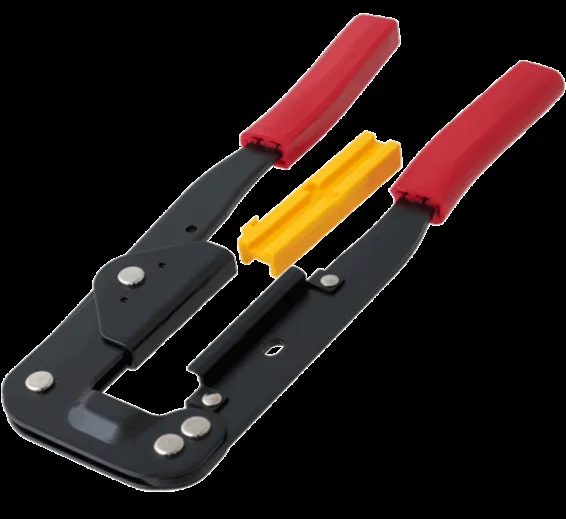 Hardware Tools
TNI U TU 214 Crimping Tool Pliers For Computer CD ROM Pressing Line
SKU: RAWLIXTNI
Best Online Shopping website for TU 214 Crimping Tool. Here you get TU 214 Crimping Tool in reasonable price in Karachi, Lahore, Islamabad, Rawalpindi, Peshawar, Multan, Quetta, Faisalabad and all over Pakistan.
TNI-U TU-214 Crimping Tool Pliers is easy to use tool with a firm, durable and comfortable. TNI-U TU-214 Crimping Tool Pliers is a device used to conjoin two pieces of metal by deforming one or both of them in a way that causes them to hold each other. The result of the tool's work is called a crimp. A good example of crimping is the process of affixing a connector to the end of a cable.
Features of TNI-U TU-214 Crimping Tool Pliers For Computer CD-ROM Pressing Line:
Easy to use, firm and durable.
Handle, is made of engineering plastics, not easy to rust.
Suitable for computer wire and wire arranging.
For IDC type computer line of crimping.
Very convenient to work for computer flat cable.
Specifications of TNI-U TU-214 Crimping Tool Pliers For Computer CD-ROM Pressing Line:
Color: Red + Black
Material: Alloy Steel + Engineering Plastics
Item Size: Approx 24.3 * 8 * 2cm / 9.6 * 3.1 * 0.8in
Item Weight: 459.5g / 16.2oz
Package Includes:
1 x TNI-U TU-214 Crimping Tool Pliers For Computer CD-ROM Pressing Line
SKU:

RAWLIXTNI

/
Category: Tools
/