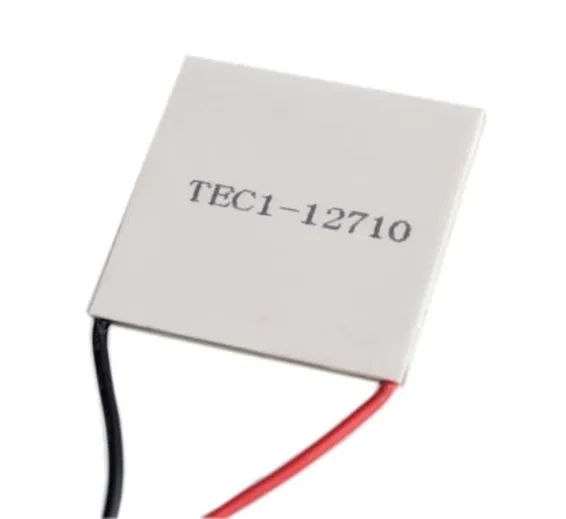 Other Modules
Thermoelectric Cooler Peltier Module TEC1 12710 12VDC 10A 40x40x3.2mm
SKU: B221,IMP60,L20,Th,KRT,N160
The TEC1-12710 40x40mm Thermoelectric Cooler 10A Peltier Module is the simple application of the Peltier Thermoelectric Effect. The Thermoelectric cooling module features 127 semiconductor couples in the area of 40mmx40mm. Thermoelectric coolers also are known as TEC or Peltier Module create a temperature differential on each side. One side gets hot and the other side gets cool. Therefore, they can be used to either warm something up or cool something down, depending on which side you use. You can also take advantage of a temperature differential to generate electricity.
This 12V Peltier Module works very well as long as you remove the heat from the hot side. After turning on the device, the hot side will heat quickly, the cold side will cool quickly. If you do not remove the heat from the hot side (with a heat sink or other device), the Peltier will quickly reach stasis and do nothing. We recommend using an old computer CPU heatsink or another water block of metal to pull heat from the hot side. We were able to use a computer power supply and CPU heatsink to make the cold side so uncomfortable we could not hold our finger to it.
Features Of Thermoelectric Cooler Peltier TEC1-12710:
Ceramics thermoelectric Cooler semiconductor module TEC1-12710
Small module.
No need to move internal parts when in transit
Easy transition between the hot side to the cool side and vice-versa just by reversing the polarity of the supply.
Quality tested cooling cells.
Solid-state, vibration-free, noise-free.
Simple to install and operate.
Should use with a heat sink.
It can be used in the refrigerator, Portable cooling car box, Liquid Cooling, Temperature stabilizer, etc.
Specifications Of TEC1-12710 40x40mm Thermoelectric Cooler 10A Peltier Module:
Model: TEC1-12710
Dimension: 40*40*3.4mm
Internal resistance: 1.2~1.5 ohm (ambient temperature 23 - 1 DEG C, 1kHZ Ac)
Maximum temperature: Tmax (Qc=0) 60 DEG C.
Operating current: Imax=10A (15Vmax voltage start)
Rated voltage: DC12V (Vmax:15.5V)
Cooling power: Qcmax 92W
Assembly pressure: 85N/cm2
Working environment: the temperature range of -55 degrees C ~ 83 C (high ambient temperature will directly affect the efficiency of the cooling)
Wire specification: lead length 300 + RV 5mm standard wire single head 5mm tin plating
Tested TEC1_12710 Applications:
When coupled with an appropriate heat sink and power source, TEC1 Peltier Modules are suitable for the following applications…
Liquid Component Cooling -Ideal for performance PC applications, TEC1 Peltier Modules are tested to cool CPUs and GPUs to extreme temperatures when used in conjunction with 12v PSU rails and optimized CPU heat sinks.
Food and Beverage Refrigeration – Precision temperature management allows for use in temperature-sensitive food and beverage refrigeration applications requiring exacting cooling (or heating).
Commercial Portable Cooling – Approved for use in commercial transport, TEC1 Peltier Modules can be applied to manage DTmax temperatures of up to 68˚C.
Temperature Stabilization – Stabilize volatile temperatures with ease and superior energy efficiency when paired with a precision Peltier control module.
Precision Temperature Control – For research laboratories, universities, or any precision temperature control situation with a range of up to 68˚C, TEC1 Peltiers provide unparalleled control.
Medical and Photonic Systems – Trusted in thousands of medical and photonic systems applications, TEC1 Peltier Modules offer premier precision temperature control - even in extreme temperature differentials - few coolers can match.
Package Include:
1 x TEC1-12710 Peltier Module
Best Online shopping website for Thermoelectric Cooler Peltier Module TEC1 12710 12VDC 10A 40x40x3.2mm in cheap price in Lahore Islamabad Karachi Peshawar Quetta Multan Rawalpindi Faislabad Gujranwala and all over Pakistan