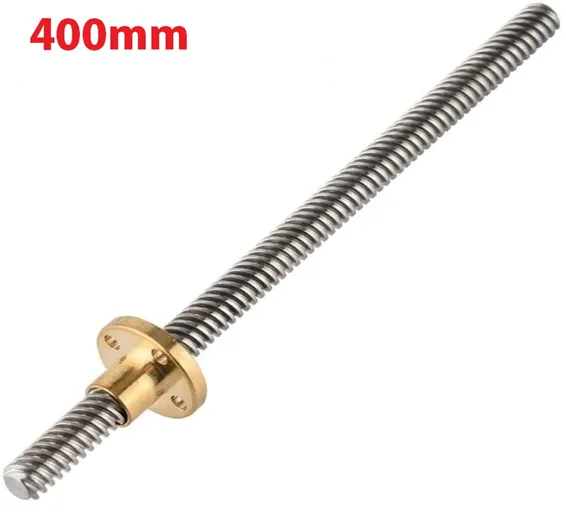 3D Printer
T8 400mmx8mm Screw Threaded Rod With Brass Nut
SKU: IMP50,L20,TH5,KRT143
T8 400mmx8mm Screw Threaded Rod is also named as a stud, it is a long rod and threaded on both ends. The threaded rod 8mm is made from high quality 304 stainless steel for durability and long service life. 8mm CNC screw rod is designed to be used in tension. Fine quality threaded rod in bar stock form is often called an all-thread rod. This 8mm full threaded round bar is stainless steel lead screw, copper nut.not rust, durable.
Features Of 8mm Screwed Rod 400mm:
Stainless steel material, not rust, durable.
Easy to install and convenient to use, no need to process.
Fine producing and practical.
Application of machine tool guide rail and other equipment.
Material: Stainless steel lead screw, copper nut.
T8 Trapezoidal Stepper 400
Right-handed.
Single start 2mm per turn.
Each rod comes with one Brass Nut
Specifications Of Threaded Rod Bar 400mmx8mm:
Lead Screw Material: 304 Stainless Steel
Length: 400mm( 15.75" )
Diameter: 8mm / 0.3"
Brass Nut Size: 10x13x22mm / 0.4"x0.5"x0.9"
Package Include:
1 X Rod Lead Screw 400mmx8mm
1 X Brass Nut
Best Online Shopping website for T8 400mmx8mm Screw Threaded Rod With Brass Nut Threaded Steel Rod in cheap price in Karachi, Lahore, Islamabad, Rawalpindi, Sukkur, Peshawar, Multan, Quetta, Faisalabad and all over Pakistan.