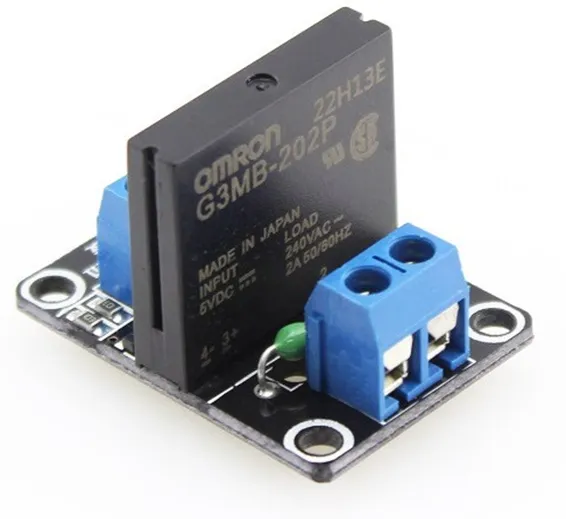 SKU: B 186,IMP10,Th5,KRT522,N01
A solid-state relay (SSR) is just what it sounds like; an IC that acts like a mechanical relay. They allow you to control high-voltage AC loads from lower voltage DC control circuitry. They accomplish this by using infrared light as the 'contact,' a solid-state relay is really just an IR LED and a photometric sealed up into a little box. A Solid State Relay is similar to a mechanic relay where it can be controlled through a digital signal. Solid State Relay generates no noise and has a much longer lifespan compared to the traditional mechanic relay.
This 5V 1 Channel SSR G3MB-202P Solid State Relay Module 240V 2A Output with Resistive Fuse is based on the Omron G3MB SSR relay which can control up to 2A at 240VAC. This is a 1 Channel SSR Solid State Relay module which has 3 separate terminals, NO (Normal Open), COM (Common), NC (Normal Closed). When the input logic voltage is applied to the coil, the NC will disconnect from the COM breaking the conductivity between the two. At the same time, the NO will connect with the COM allowing conductivity between them. Depending on your wiring this will turn on or off the connected load.
Features:
Control Voltage:5V
Static Current:0mA
Working Current:12.5mA
Trigger Voltage:0-1.5V
Trigger Current:2mA
Module Interface:
DC+: Connect power positive
DC-: Connect power negative
CH: Relay module signal trigger end(Low-level trigger is effective)
Wiring: When triggered by low voltage, a current will get through.
Buy Solid State Relay SSR Module 1 Channel For Arduino at Pakistan's Best Online Store at cheap price. Here you get the best SSR modules. We Deliver in Gujranwala, Karachi, Lahore, Islamabad, Rawalpindi, Multan, Quetta, Faisalabad and all Over Pakistan
Package Include:
1x Solid State Relay SSR Module 1 Channel For Arduino
Solid State Relay with Arduino: