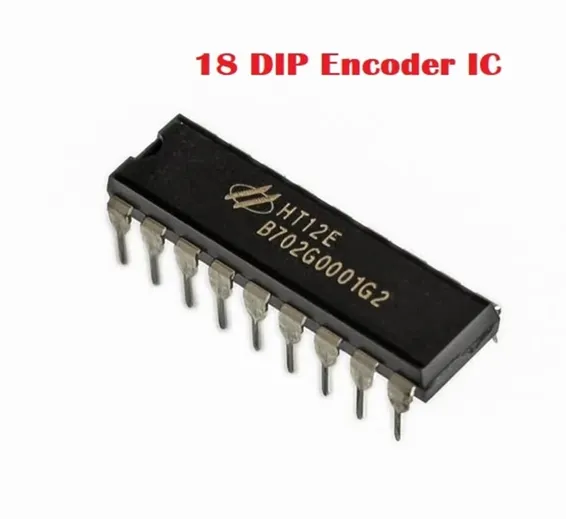 SKU: SB 193,IMP100,Th25,KRT
18 Dip HT12E RF Encoder IC is a series of CMOS LSIs for remote control system applications. 18 Dip HT12E RF Encoder IC is capable of encoding information which consists of N address bits and 12N data bits. Each address/data input can be set to one of the two logic states. The programmed addresses/data are transmitted together with the header bits via an RF or an infrared transmission medium upon receipt of a trigger signal. The capability to select a TE trigger on the HT12E or a DATA trigger on the HT12A further enhances the application flexibility of the 212 series of encoders. The HT12A additionally provides a 38kHz carrier for infrared systems.
We have also PIC18F2550 USB Microcontroller, PIC18f452 Microcontroller, PIC18F452 Microcontroller etc.
Features of 18 Dip HT12E RF Encoder IC:
Data code has a positive polarity
Easy Interface with and RF or an Infrared transmission medium
A secure and robust protocol
Ideal for remote control and security applications
Compatible with the HT12D decoder IC
Minimal External Components
Built-in Oscillator needs only 5% Resistor
Specifications of 18 Dip HT12E RF Encoder IC:
18-pin DIP
Operating Voltage : 2.4V ~ 12V
Low Power and High Noise Immunity, CMOS Technology
Low Standby Current: 0.1uA (Typ.) at VDD=5V
Minimum Transmission Word: 4
Applications:
Used to convert Parallel 4-bit data to series data
Highly useful in wireless communication projects involving RF or IR
Remote controlled systems like garage doors, Car alarm system, Car door controls etc.
Can be used in Home automation for short-range remote switching
Safety systems like Burglar alarm system, Smoke or Fire alarm system etc
Package Includes:
1 x 18 Dip HT12E RF Encoder IC
HT12E Datasheet
Best Online Shopping website for 18 Dip HT12E RF Encoder IC in cheap price in Karachi, Lahore, Islamabad, Rawalpindi, Sukkur, Peshawar, Multan, Quetta, Faisalabad and all over Pakistan.