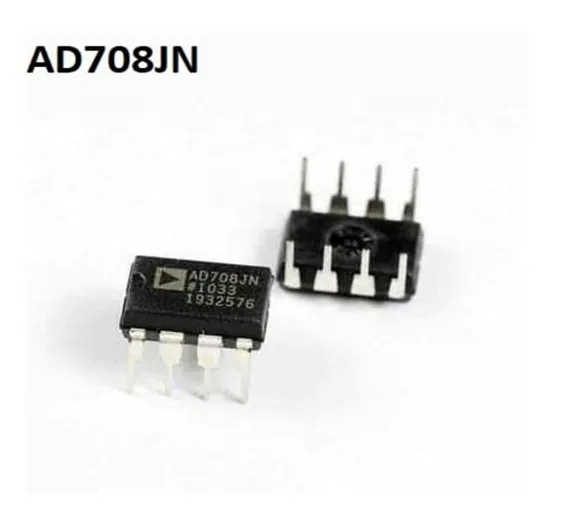 The General Purpose AD708JN is a high precision, dual monolithic operational amplifier. Each amplifier individually offers excellent dc precision with maximum offset voltage and offset voltage drift of any dual bipolar op-amp. The combination of outstanding matching and individual specifications make the OP-Amp AD708JN ideal for constructing high gain, precision instrumentation amplifiers. The low offset voltage drift and low noise of the AD708 allow the designer to amplify very small signals without sacrificing overall system performance.
Features Of Ideal Operational Amplifier AD708JN:
AD708JN is Ultralow offset voltage op-amp in DIP-8
The AD708JN is rated over the commercial temperature range of 0°C to 70°C
It is available in Narrow Body
Low offset voltage drift and Low noise of AD708JN can allow amplifying a Very small signal
The AD708 10 V/μV typical open-loop gain and 140 dB common-mode rejection make it ideal for precision applications.
open-loop gain, the input offset currents, and low input bias currents, do not limit circuit accuracy.
Specifications Of Low Offset Voltage Op-Amp AD708JN:
Model Number: AD708JNZ
Mounting Type: Through Hole
Min Supply Voltage: 3V
Max Supply Voltage: 18 V
Supply Voltage: ±3 V ~ 18 V
Operating Temperature: 0°C ~ 70°C
Voltage Gain: 140 dB
-3db Bandwidth: 900KHz
Current - Input Bias: 2.5 nA
Max Supply Current: 5.5 mA
Voltage - Input Offset: 30µV
Pins Configuration:
Datasheet AD708JN
Package Include:
1x Op-Amp IC AD708JN Dip 8
Best Online Shopping website for Operational Amplifier IC AD708JN in cheap price. Here you get a wide range of Op-Amps. we Deliver in Karachi, Lahore, Islamabad, Rawalpindi, Sukkur, Peshawar, Multan, Quetta, Faisalabad, Gujranwala and all over Pakistan