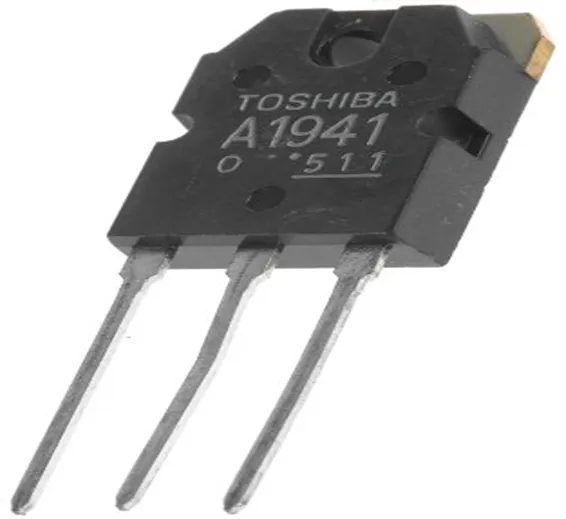 The power transistor is a three-terminal semiconductor device used to amplify and switch electronic signals and electrical power. It is a junction transistor designed to handle high current and power; used chiefly in audio and switching circuits.
Specifications:
Polarity: PNP
Pins: 3
Material: Silicon
Maximum Collector Power Dissipation (Pc): 100 W
Maximum Collector-

Base
Voltage |Vcb|: -140 V

Maximum Collector-
Emitter
Voltage |Vce|: -140 V
Maximum
Emitter
-
Base
Voltage |Veb|: -5 V
Maximum Collector Current |Ic max|: -10 A
Max. Operating Junction Temperature (Tj): 150 °C
Transition Frequency (ft): 30 MHz
Collector Capacitance (Cc): 480 pF
Forward Current Transfer Ratio (hFE), MIN: 55
Dimension: 15.5×20.0×4.5
Pin Configuration:
Base
collector
Emitter
Datasheet:
Transistor A1941 Datasheet
Buy High Power Transistor Toshiba A1941 at Pakistan's Best Online Store at cheap price. Here you get a variety of High-speed switching Transistors. We Deliver in Gujranwala, Karachi, Lahore, Islamabad, Rawalpindi, Multan, Quetta, Faisalabad and all over Pakistan.
Package Include:
1x Power Transistor Toshiba A1941