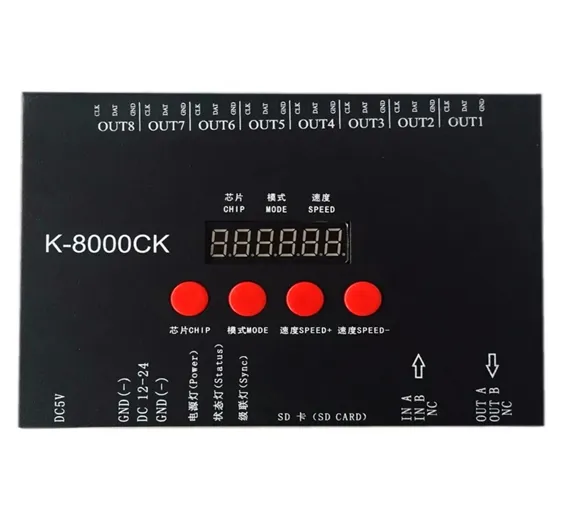 Other Lights
K-8000CK (T-8000 upgraded version) LED Controller Pixel SD Card
SKU: TCBOX5
Features of K-8000CK LED Pixel SD Card Controller:
32 to 65536 degree gray control, software Gamma correction processing.
to support a variety of points, lines, surface light source, support a variety of rules, shaped processing.
the controller 8 port output, each port can bring up to 512/1024 lights (DMX lamps up to 512 pixels).
play content stored in the SD card, SD card can store up to 32 effects files, SD card capacity support 128MB-32GB.
the controller can be used alone, but also more than cascade use, cascade use of optical isolation: anti-interference, better stability, between the two cascade distance Up to 150 meters, need to use 0.5M2 pure copper power cord.
the controller with a chip chip can be locked in the software with the IC can also be locked in the software, by adjusting the controller chip button to select the load IC, this program is more flexible and convenient.
for the DMX lamps IC controller comes with write address function; In addition with the Division I 2016 LedEdit-K V3.26 version of the software can be a key Write function set.
support for the fixture for the 4-channel (RGBW) pixels, or split into single-channel point pixels.
enhanced TTL and 485 differential (DMX) signal output.
Technical Specifications of K-8000CK LED Pixel SD Card Controller:
| | |
| --- | --- |
| Item Type | RGB Controler |
| Material | plastic |
| Certification | CCC,ce,FCC,GS,ROHS,SAA |
| Power Source | DC |
| Oscillation frequency | 50/60hz |
| Model Number | K-8000CK |
| Controled Method | SPI |
| Max. Load Power | 1w |
| Connection Mode | TTL SPI |
| Wattage | 1w |
| Voltage | 5-24V |
| Remote Distance | 1 |
| Applicable Lights | RGB pixel lights |
| Control pixels | 1024pixels*8ports=8192pixels |