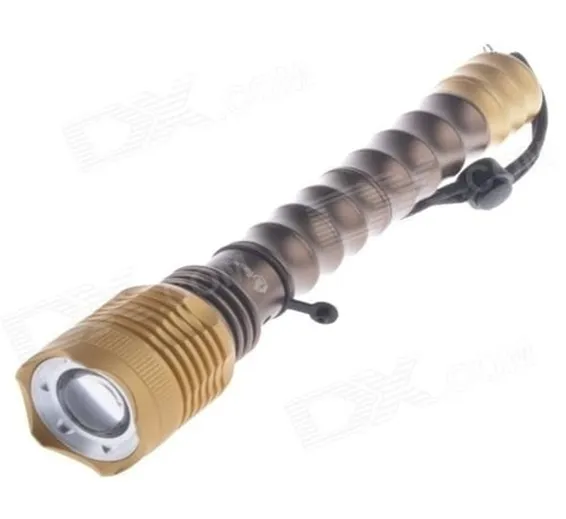 Other Lights
Focus Pro 807 Cree XP-E Q5 3 Mode Cool White 1-LED Flashlight
SKU: LS,Th,KRT 03
Focus Pro 807 Cree XP-E Q5 3 Mode Cool White 1-LED Flashlight
is a portable hand-held electric light.
Focus Pro 807 Cree XP-E Q5 3 Mode Cool White 1-LED Flashlight
, the source of the light is usually a light-emitting diode (LED). A typical flashlight consists of the light source mounted in a reflector, a transparent cover (sometimes combined with a lens) to protect the light source and reflector, a battery, and a switch. These are supported and protected by a case. In addition to the general-purpose hand-held flashlight, many forms have been adapted for special uses. Head or helmet-mounted flashlights designed for miners and campers leave the hands free. Some flashlights can be used underwater or in flammable atmospheres. Flashlights are used as a light source when in a place with no power or during power outages.
Features of
Focus Pro 807 Cree XP-E Q5 3 Mode Cool White 1-LED Flashlight
:
100% Brand New
High-Quality Product
Easy to Use, Set up and Install
Good Shape and Beautiful Design
Make your life better
Specifications of
Focus Pro 807 Cree XP-E Q5 3 Mode Cool White 1-LED Flashlight
: Brand Focus Pro Colour Others Model 807 Material Aluminum Alloy Emitter Brand Cree Led Type XP-E Emitter BIN Q5 Number of Emitters 1 Colour Bin Cool White Working Voltage 2.7~4.2 V Power Supply 2 x 18650 (not Included) Current 1A Theoretical Lumens 300 lumens Actual Lumens 1 Hour Number of Modes 3 Mode Arrangement Hi, Low, Fast Strobes Mode Memory No Switch Type Side Lens Sapphire Crystal Reflector Plastic Smooth Beam Range 200 m Strap/Clip Strap included Dimensions 9.84 in x 2.17 in x 2.17 in (25.0 cm x 5.5 cm x 5.5 cm)
Package Includes:
Focus Pro 807 Cree XP-E Q5 3 Mode Cool White 1-LED Flashlight