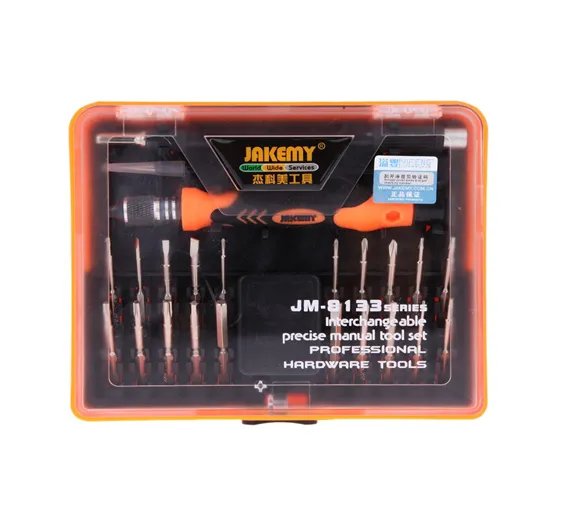 Hardware Tools
JAKEMY JM-8133 23 in 1 Screwdriver Ratchet Hand-tools Suite Furniture Computer Electrical maintenance Tools
SKU: TMD5,Th2,KRT
JAKEMY JM-8133 23 in 1 Screwdriver Ratchet Hand-tools Suite Furniture Computer Electrical maintenance tools also called 23-in-1 interchangeable precise manual tool set, jakemy jm 8133, jakemy tools review, repair tools, Tool kit, Hand tools Set, jakemy precision screwdriver set, JM 8133, jakemy screwdriver set 23 in 1 is a professional portable hardware tools; it is Light weight & has compact design. It contains High hardness and good toughness, PP&TPR material and non-slip handle. This set of tools is designed for repairing mobile phones (not for iPhone), hard drives and other electronic products.
Features:
New 23-in-1 interchangeable precise manual tool set.
Professional portable hardware tools with perfect weight and compact design for easy implementation.
Comes with an accessory box for small components.
More bits of cr-v are very suitable for deep holes.
Non-slip hard shaft provides more comfort and convenience.
For repair laptops, mobile devices.
Specifications:
Bits Model:
Torx: T4 / T5 / T8 / T10 / T15
Hex: H3.0 / H4.0
Slotted: 1. 0.1. 5.2. 5.3. 5
Philips: 1. 0.1. 5.2. 5.3. 5
Tri-wing: y3
Triangle: 2.3
Pentagon: 0.8
U-shaped: u2.6
Package size Size: 15.0 * 12.5 * 3.5cm / 5.9 * 4.9 * 1.4in
Package Weight: 300g / 12.3oz
Package List:
20 * 45mm Screwdriver
1 * Multi - function Extension
1 * Non-slip PP & TPR grip
1 * tweezers
SKU:

TMD5,Th2,KRT

/
Category: Tools
/