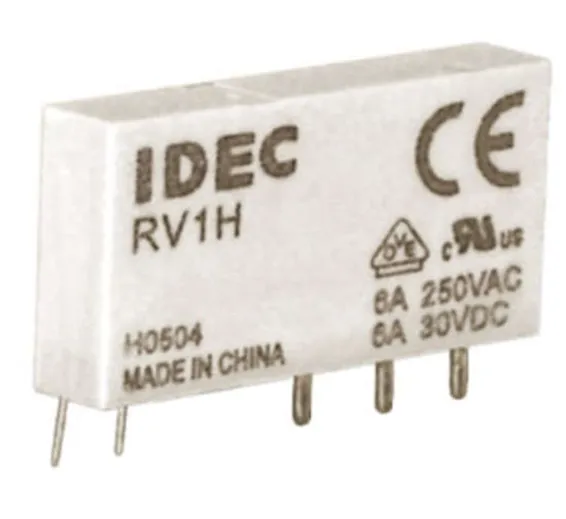 RV1H-G-D24 is a Replacement Relay with DC coil for use with RV8H-series interface relay.
This replacement relay has 1CO (SPDT) Au-plated AgNi contact. 6mm wide slim interface relays provide a perfect solution for general-purpose relay applications in compact spaces. It can be used as a universal interface between the controller and the actuator to switch small and medium size loads.
Au-plated = gold plated contacts
AgNi = Silver-Nickel material
Specifications:
RV 6mm Relay
SPDT spec
Voltage rating: 24V DC
Only 70mm in height from DIN rail
Features:
High dielectric strength and impulse withstand voltages
Reverse polarity protected
Gold-plated contacts (RV8H-L & S and RV8H-2)
6A contact rating on 6mm RV8H, 8A on RV8H-2, 16A rating on RV8H-1
Operating temperature of -40ºC ~ 80°C for EMR
RoHS compliant
Typical usage:
These relays are ideal for:
PLC and electronic systems
Industrial automation
Panel builders
Assembly machine application
and other applications that require a high switching capability.
Datasheet of RV1H-G-D24 replacement relay:
Datasheet
Package includes: