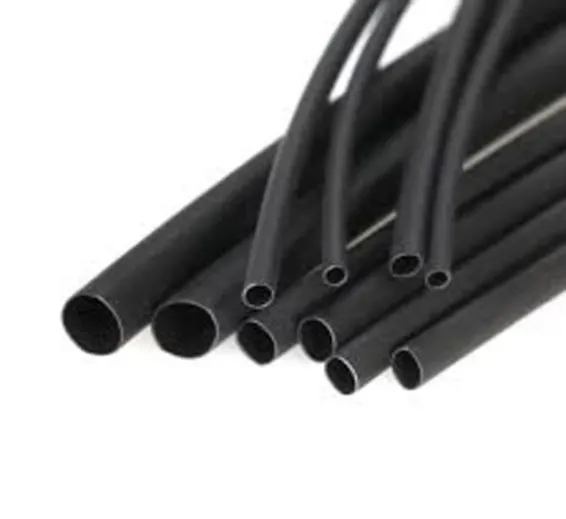 Heat Shrink Tubing & Sleeve is a 3:1 flexible tubing offering the advantages of integral, adhesive-lined construction. Heat Shrink Tubing & Sleeve is made from flexible polyethene with an internal layer of special thermoplastic adhesive. The heat-shrinkable outer wall is selectively cross-linked while maintaining the high flow and excellent adhesion of the inner sealant liner. When heated in excess of 121 deg C (250 deg F), the tubing rapidly shrinks to a skintight fit, forcing the melted adhesive lining to flow and cover the substrate. The adhesive forms a flexible bond with a wide variety of rubbers, plastics, and metals. Upon cooling, the adhesive solidifies, forming a permanent, non-drying, flexible and water-resistant barrier. Adhesive reflow will occur at temperatures above 80 deg C.
Features of Heat Shrink Tubing & Sleeve:
3:1 shrinkage ratio, suitable for irregular shape insulation and sealing.
Medium wall thickness, while maintaining flexibility, enhanced mechanical protection strength.
The adhesive layer can be bonded to plastic, rubber and metal.
The initial contraction temperature is 70 C, and the total shrinkage temperature is 125 C.
the melting temperature of the inner layer: 70 C -100 C;
The range of working temperature: -45 C ~ 145 C
Features of Heat Shrink Tubing & Sleeve:
Colour: Black
Material: Polyethylene
Shrink Ratio: 3:1
Temp: -45C up to +145C
Longitudinal Shrinkage (Lengthwise): Less than 8 %, Insulating Voltage
Capability: 600 volts
Adhesive Adheres to Most plastics, metals, rubber, Continuous Operating
1 Year Warranty Resistant to Saltwater, Oil, Gasoline, Diesel Fuel, and more.
Package Includes:
1 x Heat Shrink Tubing & Sleeve