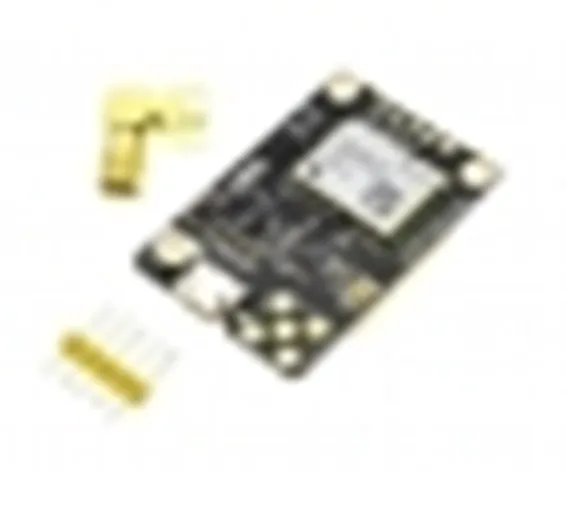 SKU: SKU: B 217,IMP50,Th5,KRT
GY-NEO6MV2 GPS Module with Flight Control EEPROM MWC APM2.5 and on board Large Antenna along with SMA connector for external wired GPS antenna.
Note: External wired GPS antenna is not included with this package
GY-GPS6MV2
is WAAS (Wide Area Augmentation System) enabled GPS unit and is compatible with UART capable devices including Arduino, Raspberry Pi, MSP430, and MSP432.
Power the module and it will automatically acquire satellite signals and a position fix. Once it has a position fix the module will blink the onboard LED. This LED will continue to blink while the module has a position fix.
Specifications:
Input Supply: 3.3V-6V (Onboard voltage regulator maintains 3.3V)
I/O Maximum Logic Level: 3.6V

Works fine with a direct connection to the 5V serial pins on an Arduino, however, for extended periods of time always practice level shifting the 5V TX signal using 2 Channel Bi-directional I2C Logic Level Converter or 4 Channel Bi-directional I2C Logic Level Converter or CD4050BE

<1 second to first fix (TTFF) for hot starts
27 seconds to first fix (TTFF) for cold starts
UART: 9600 baud by default, but is configurable from 4800 to 115200 baud
External EEPROM for configuration storage
Position Accuracy: 2 m and better with multiple good satellite signals
Velocity Accuracy: 0.1 m/s
Maximum Velocity: 500 m/s
Heading Accuracy: 0.5 degrees while moving
Operating Modes:
Continuous operating modes
Maximum Performance Mode: Continuously uses the acquisition engine, resulting in the best possible time to first fix
Eco Mode: Optimizes the use of the acquisition engine to minimize current consumption
Intermittent operating mode
Power Save Mode: Draws the only 11mA – Utilizes cyclic tracking, with configurable update periods, which reduces the average power consumption significantly
Package Includes:
1 x GY-GPS6MV2 NEO-6M GPS Module