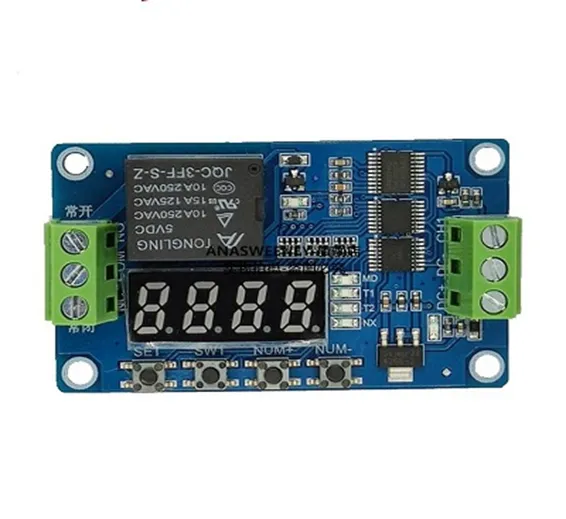 Other Modules
FRM01 timing delay cycle self-lock relay control module 18 functions in Pakistan
SKU: B82,IMP20,Th5,KRT116
FRM01 multi-function relay control module, designed for users with different needs, using microcontroller as the main control unit, preset 18 functions, and the module uses genuine high-quality power relay, high-power high-voltage triode, red, The blue signal indicator board has comprehensive consideration and stable performance, and can be widely used in various power control applications.
Functions:
New upgrade to version 2.0, the module function has been increased from the previous 8 to 18, to meet more application needs;
Increase the anti-reverse function of the power supply, and the module will not be damaged due to the wrong power supply;
Using the top quality high-voltage power supply module to replace the previous discrete power supply, the system is more stable and reliable;
Increase the 0.1-second timing function, the timing accuracy is upgraded from the previous 0.1 seconds to 0.01 seconds;
Increase the automatic power-saving function, the user can set it autonomously
One Module Function:
The user can select one of the following 18 functions by pressing the button and display, and can set and save the function parameters, and also view the parameters of the current function. The time parameter setting can be adjusted by 0.1-second minimum, and the precision is better than 0.01 seconds. Instructions for setting up can be obtained from your dealer.
Function 1: Timing pull-in: After power-on, the delay T1 time relay is closed, T1 is adjustable between 0.1 seconds and 270 hours, and a high-level pulse signal is sent to the CH1 interface, repeating the above functions; Function 2: Timing disconnection: the relay is closed when power is on, the delay T1 time relay is disconnected, T1 is adjustable between 0.1 seconds and 270 hours, and a high-level pulse signal is sent to the CH1 interface, repeating the above functions;
Function 3:
Timing and re-opening: After power-on, the relay will not pick up first. After the delay time T1 arrives, the relay will pick up. When the pull-in time T2 arrives, the relay will be disconnected. The delay time T1 and T2 will be between 0.1 seconds and 270 hours. Adjustable between each other, give the CH1 interface a high-level pulse signal, repeat the above functions more than once; Function 4: Timing disconnection and re-sucking: After power-on, the relay will immediately pull in. After the delay time T1 arrives, the relay will be disconnected; after the disconnection time T2 arrives, the relay will be closed, and the delay time T1 and T2 will be 0.1 second-270. Adjustable between hours, give the CH1 interface a high-level pulse signal, repeat the above functions; Function 5: Infinite loop timing mode 1: After power-on, the relay does not pick up first. After the delay time T1 arrives, the relay pulls in; after the pull-in time T2 arrives, the relay turns off, and then repeats the above state, delay time T1 and T2 can be adjusted between 0.1 seconds and 270 hours, and a high level pulse signal is sent to the CH1 interface to restart the above functions; Function 6: Infinite loop timing mode 2: After power-on, the relay will immediately pull in. After the delay time T1 arrives, the relay will be disconnected. After the disconnection time T2 arrives, the relay will pick up and then repeat the above state. Delay time T1 and T2 Adjustable between 0.1 seconds and 270 hours, a high-level pulse signal is sent to the CH1 interface to restart the above functions; Function 7: Limited cycle timing mode 1: On the basis of function 5, increase the cycle number function. At this time, T1 and T2 are adjustable between 0.1 seconds and 9999 seconds, and the cycle number NX is adjustable between 1-9999 times. Give the CH1 interface a high-level pulse signal to restart the above functions; Function 8: Limited cycle timing mode 2: On the basis of function 6, increase the cycle number function. At this time, T1 and T2 are adjustable between 0.1 seconds and 9999 seconds, and the cycle number NX is adjustable between 1-9999 times. Give the CH1 interface a high-level pulse signal to restart the above functions; Function 9: Self-locking relay mode: Give the relay CH1 interface a high-level pulse signal, the relay is closed, and then a high-level pulse signal relay is disconnected. Function 10: Trigger relay mode: Give the relay CH1 interface a high level signal, the relay pulls in, the high level disappears, and the relay is disconnected. Function 11: Trigger timing pull-in: the relay does not operate after power-on, give a high-level pulse signal to CH1 interface, delay T1 time relay to pull in, T1 can be adjusted between 0.1 second and 270 hours, repeat to CH1 interface High-level pulse signal, repeating more than one function; Function 12: Trigger timing disconnection: the relay does not operate after power-on, give a high-level pulse signal to the CH1 interface, the relay pulls in, the delay T1 time relay is disconnected, T1 is adjustable between 0.1 seconds and 270 hours, repeat Give the CH1 interface a high-level pulse signal and repeat the above functions more than once; Function 13: Trigger timing pull-in and then disconnect: after power-on, the relay does not work, give CH1 interface a high-level pulse signal, delay time T1 arrives after the relay is closed; after the pull-in time T2 arrives, the relay is disconnected, delay The time T1 and T2 are adjustable between 0.1 second and 270 hours, and a high-level pulse signal is repeatedly given to the CH1 interface, and the above functions are repeated once; Function 14: Trigger timing disconnection and re-sucking: the relay does not operate after power-on, give a high-level pulse signal to the CH1 interface, the relay will immediately pull in, the relay will be disconnected after the delay time T1 arrives; the relay will be disconnected after the time T2 is reached. Pull-in, delay time T1 and T2 can be adjusted between 0.1 seconds and 270 hours, repeating a high-level pulse signal to the CH1 interface, repeating the above functions more than once; Function 15: Infinite loop timing mode 1: After the power is turned on, the relay does not operate, and a high-level pulse signal is sent to the CH1 interface. After the delay time T1 arrives, the relay is closed; after the pull-in time T2 arrives, the relay is disconnected, and then the above is repeated. State, delay time T1 and T2 can be adjusted between 0.1 second and 270 hours, repeating a high level pulse signal to CH1 interface, can restart the above functions; Function 16: Infinite loop timing mode 2: After the power is turned on, the relay does not operate, and a high-level pulse signal is sent to the CH1 interface. The relay immediately pulls in, the relay is turned off after the delay time T1 arrives, and the relay is closed after the disconnection time T2 arrives. Then repeat the above state, the delay time T1 and T2 can be adjusted between 0.1 second and 270 hours, repeating a high-level pulse signal to the CH1 interface, the above functions can be restarted; Function 17: Limited cycle timing mode 1: On the basis of function 15, increase the cycle number function. At this time, T1 and T2 are adjustable between 0.1 seconds and 9999 seconds, and the cycle number NX is adjustable between 1-9999 times. Repeat the high-level pulse signal to the CH1 interface to restart the above functions;
Function 18: Limited cycle timing mode 2: On the basis of function 16, increase the cycle number function. At this time, T1 and T2 are adjustable between 0.1 seconds and 9999 seconds, and the cycle number NX is adjustable between 1-9999 times. Repeat the high-level pulse signal to the CH1 interface to restart the above functions;
Module interface:
Module control terminal: There are 3-wire interfaces, all of which have terminal blocks for user convenience. 1. DC+: DC power supply positive (5V, 12V, and 24V modules are available) 2. DC-: DC power supply negative 3, CH1: Input detection interface, active high Relay output: There is a 3-wire interface, all interfaces have a terminal 1, NO: Relay normally-open interface, the relay is suspended before the suction, short- circuit with COM1 after the suction , COM: Relay common interface 3, NC: Relay often Closed interface, shorted to COM1 before the relay is pulled in, and suspended after suction
Package Include:
1XFRM01 timing delay cycle self-lock relay control module 18 functions