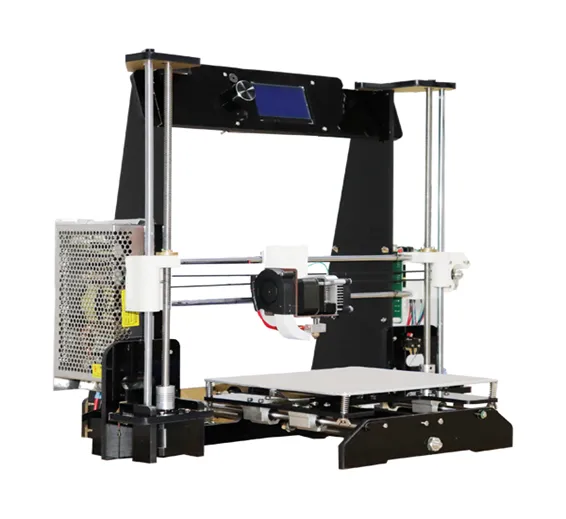 3D Printer
EX 8 3D printer for making 3D design 3D modeling in Pakistan
SKU: ODM,Th,KRT
EX8 is an incredible 3D printer designed for professionals and amateurs alike. Building it requires expertise to finish assembling it in 2 - 3 hours. It boasts high cost-performance ratio - any DIY enthusiast will not be unable to resist. EX8 has a large build volume - 220 x 220 x 240mm for most challenges. More importantly, printing with EX8 is hassle-free, any imperfection and failure due to power outage can be prevented. Control the process and set parameters rapidly by using the rotary knob. Enjoy easier and more successful 3D printing!
Main Features: ●220 x 220 x 240mm maximum build volume to print exciting models ●Precision printing with standard 0.4mm diameter nozzle, accurate alignment, and up to 120mm/s speed ● More successful in 3D printing with power outage protection to prevent a full print repeat ●Blue LCD display for more intuitive control and easy-to-use rotary knob ●Great DIY project, more challenging, but only 5 minutes to get the hang of operation after the assembly ●Reinforced aluminum alloy construct 260Deg.C max. nozzle temperature for various filaments, such as PLA, PVA, PP, TPU, wood filled, etc. ● Piano black laser-cut acrylic construction for the extraordinary hand feeling and charm of craftsmanship ● Faster and more fluent filament feeding into the 0.4mm standard nozzle ● High printing quality - stainless steel rails, gears, bearings, and connectors for smooth movements ● Unassembled printer kit to give you an unforgettable, step-by-step learning experience. As long as you have passion and creativity, you should never miss this product ● Working environment: temperature: 10 - 30 Deg.C, relative humidity: 20 - 50 percent
Tip: the power outage recovery functions well when you print more than 0.5mm in height. If the height is less than 0.5mm, it is recommended to print again. Pleaseclick here to download the open source code of Marlin Reminder: ● Please read and follow the user manual carefully before you assemble or operate the 3D printer. ● Always use the correct AC voltage for your region. ● Please do not place the 3D printer near flammable / combustible materials, or any heat sources. ● Use the 3D printer only in properly ventilated areas. Maintain a safe distance from the printer.