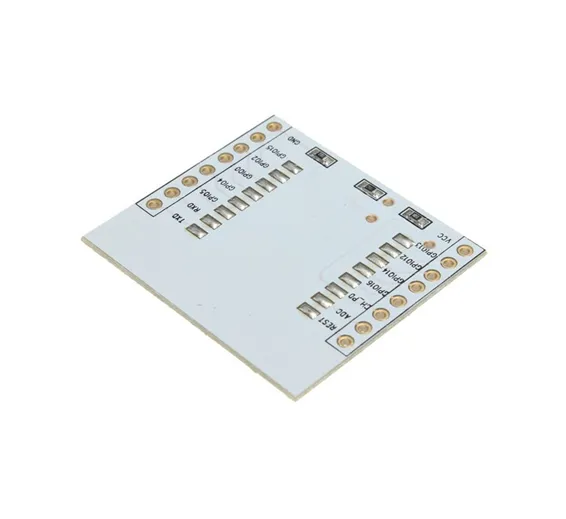 SKU: SB08,,D139,IMP50,L50,Th75,KRT
This ESP8266 Adapter Plate is an Adapter PCB Plate for ESP-07, ESP-08, ESP-12E ESP8266 SMD ESP8266 Module. These SMD ESP8266 modules have an unfriendly pin pitch. But by use of this adapter PCB, you can solder ESP-07, ESP-08 or ESP-12E modules and can use your favorite ESP8266SMD modules on breadboards or on perforated boards.
Specifications and Features :
Dimensions: 31 x 28 x 3(L x Wx H) mm.
Weight: 4 gm.
PCB Thickness: 1.6mm.
PCB Color: White.
Pinouts: On top layer in black color.
Enable Resistors: Yes 10K pull-up resistor populated on PCB.
Compatible with Latest ESP-12F ESP8266 Wifi Module
Reserved land-pattern for the 3.3V regulator: Yes, On bottom layer there is a land-pattern for a 3.3V regulator. To use 3.3V regulator you will need to desolder 0 Ohm jumper resistor R1. The VCC pin then becomes 4.5V to the 9V power input.
Package Includes :
1 x ESP8266 Adapter Plate