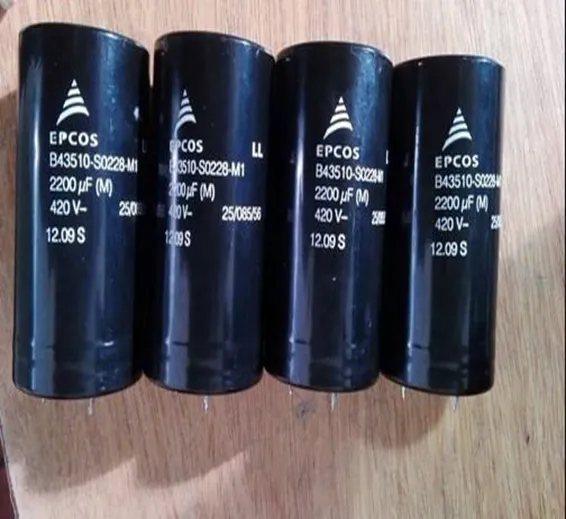 The B43510 series long life grade Aluminium Electrolytic Capacitor encapsulated in an aluminum case with an insulation sleeve. It has poles with screw terminal connections and mounting with ring clips, clamps or threaded stud. It features high ripple current capability, long useful life, and high reliability. It is used in frequency converters, wind power converters, solar inverters, uninterruptible power supplies, and professional power supplies.
Construction:
Charge/discharge-proof
PolarAluminum case
Fully insulated with PVCVersion with additional PET insulation cap on the terminal side available for insulating the capacitor from the PCB (B43510only)
Overload protection by safety vent in case
Terminals:
4-pin snap-in terminals (6.3 mm Lenght)
Solder pin mounting on printed circuit boards, pins fit standardized spacings on PCB
Features:
Voltage derating (0.88VR) enables 105°C operation, more details available upon request
Extremely high volumetric efficiency
High ripple current capability
Many different case sizes
Pinning ensures correct insertion
RoHS-compatible
Specifications:
Capacitance: 2200uf
Voltage Rating: 420v
Product Range: B43510 series
Capacitor Terminal: snap-in
Applications:
Frequency converters
Switch-mode power supplies in industrial and consumer electronics
Uninterruptible power supplies
Datasheet:
Capacitor B43510 Series
Buy Electrolytic Polar Capacitor 2200uf 420v at Pakistan's Best Online Store at cheap price. Here you get a wide range of Polar capacitors. We Deliver in Gujranwala, Karachi, Lahore, Islamabad, Rawalpindi, Multan, Quetta, Faisalabad and all over Pakistan.
Package Include:
1x Capacitor 2200uf 420v