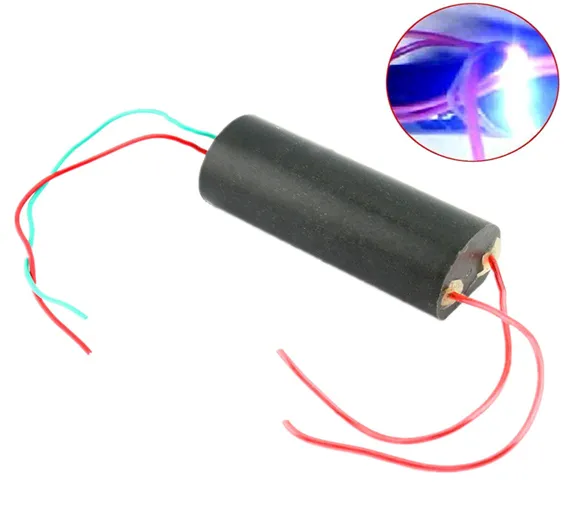 SKU: B171,IMP20,TH10,KRT525 D93,N193
DIY Stun Gun Module MC105 Pulse DC 3.6V-6V 400KV Boost Step Up Power Module High Voltage Generator Transformer High Voltage Converter uses the principle Tesla coil is made of high-voltage pulse output voltage. current, small size , high efficiency, simple external circuit ( just plug in the switch , the battery can be )
discharge intensity violent.
Specifications:
Voltage: Input DC3.6-6V, output DC400kV - 600KV( Please pay attention to safety when used )
High Type : Pulse Current
High voltage bipolar discharge distance : 10mm-20mm
Output voltage lines Length: about 100mm
Input power cable length: about 10mm ( red is positive )
Dimensions : Φ24 * 63mm
Input power:
3.7V Li-ion battery can be used 1 or 2 section , such as 18650 , idle cell phone batteries ( to remove the for protection board , Recommended capacity of 2000mAh or more ) or NiCd / NiMH battery pack , 4V or 6V Lead Acid batteries.
This module is a small production with high-pressure science inverter transformer / booster finished module, the input terminal DC3V-7.2V voltage can get 200,000 volts for DC high voltage ( about 1-2cm arc ) at the output can be used as high school science experiments , electronic equipment, negative ion generator, high voltage source to use when making small science .
Caution:
To avoid high-pressure high-voltage module load electricity use . Must adjust the high voltage side suitable distance(before electricity, battery voltage and capacity is proportional to the distance from high-voltage arcing used when testing the arc distance from short to long experiment , prohibited from beyond the arc when powered up , the energy can not be released due to high pressure , easily damage the module.)