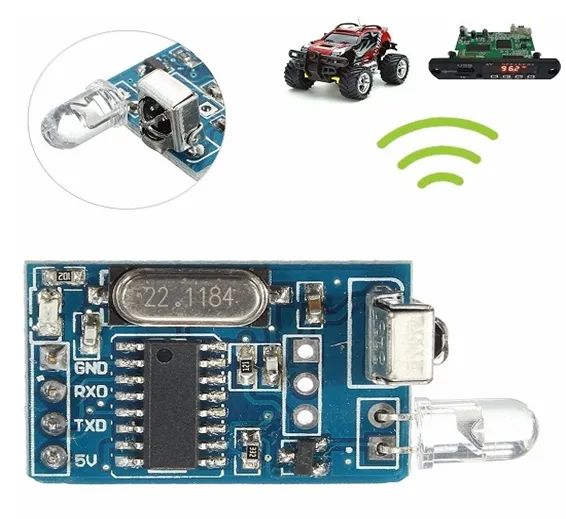 Other Modules
DIY 5V Wireless IR Infrared Remote Decoder Encoding Transmitter Receiver Module in Pakistan
SKU: B224,IMP10,Th5,KRT523
This DIY 5V Wireless Infrared Remote Decoder receiver object listens to the IR sensor and when it sees a signal it starts measuring the timing of the marks and spaces. If a particular amount of time passes with no additional signals, it presumes that the data is complete and when you call My_Receiver.GetResults it returns "true". This IR module passes the data to your decoder object. The decoder uses the timing information and the number of bits to see if it matches one of the supported protocols. If it succeeds, it returns "true" although in this sketch we did not bother to check that first. *Product image shown may be different from actual product sold. However, specifications are correct.
Specifications:
Size: 27mm x 17mm
Supply voltage: 5V
Communication: Serial communication (TTL level)
Firing distance: 6-10 meters (sample environmental testing eight meters Stability Control)
Features:
With the infrared emission function
With infrared encoding.
With the infrared emission head expansion interface.
With serial communication functions, communication level is TTL.
It can control 99% of the infrared format devices,including televisions, fans and other electrical and electronic equipment.
Support for NEC encoding chips typical encoding chips such as uPD6121, uPD6122, TC9012 and numerous
Compatible chip model, such as the PT2221, PT2222, SC6121, SC6122, SC9012, etc.)
Can be used as an infrared wireless data communication, data transmission, control and other functions IR
Applications:
Smart home,
student electronic design,
infrared turn wireless,
intelligent industrial equipment,
MP3 controller,
IR remote control,
IR de
coding equipment,
electronic building blocks kit,
electronic equipment control,
infrared wireless switch design,
coding equipment,
intelligent infrared remote control car.
Package includes:
1 x IR Infrared Decoder Module