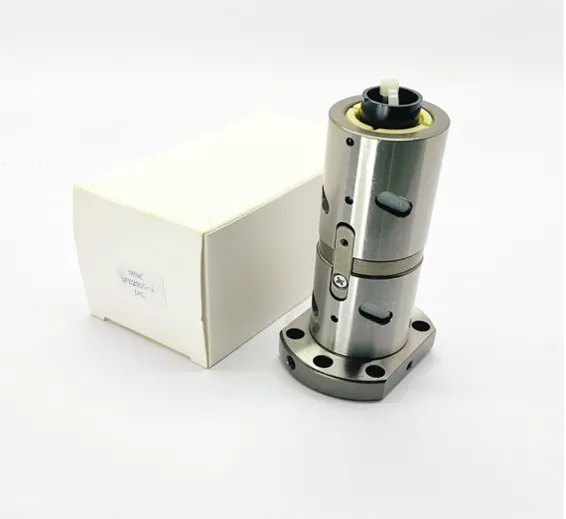 CNC
DFU-2005 250mm Ball Screw Double Nut Series SHAC
SKU: DFU250
We have a variety of Double Nut Ball Screws with 20mm diameter and 5mm lead pitch. Dealing with SHAC Taiwan and WERB China brands as sole distributors in Pakistan Abdul Traders is providing economical and high precession linear motion solutions. Ball screw standard lengths with 250mm till 4000mm are given in the selection panel. However, custom sizes are also available and may enquire by phone or WhatsApp.
Product features.
Internal Return Series:
There are several good points about the internal return series. firstly, This Ball Screw is designed to return the balls from an internal return structure that saves more space in your machine setup. Secondly, small driving torque takes only one-third of the ACEM ball screw. Thirdly, Because In this series, the fine feed can be controlled within 0.1μm therefore, High accuracy is guaranteed. Conclusively, This series is highly rigid and has no backlash.
High Reliability:
The manufacturer applies stringent quality control standards on every production process with proper lubrication usage that increases the reliability and performance of the final products.
Smooth Operation:
Smooth operation is a vital and key feature of these ball screws because the high efficiency of ball screws is much superior to the conventional lead screws. The requirement of torque is less than 30%, so; it is easy to change the linear motion of the rotary table.
High Rigidity & Preload:
When axial play is minimized in the conventional screw-nut assemblies, the actuating torque becomes excessive, so, the operation is not smooth. However, The axial play in these precision ball screws may be reduced to zero by preloading, and a light smooth operation is still possible. Therefore, both low torque and high rigidity can be obtained simultaneously.
Circulation Method:
We have several circulation method ball screws in stock. For example, The Ball-return tube method (V, E, S, and Y Type) and The Ball deflector method. (I, U, M, and K Type)
Application:
There are several applications of ball screws depending upon the linear motion requirements. The most common uses of these ball screws are as follows.
NC Machine Tools:
1- Ball-screws for Lathe; X & Y axis,
2- The Ball Screw for Milling Machine & Boring Machine; X, Y & Z axis,
3- Ball screw for Drilling Machine; X, Y & Z axis,
4- Ball screw for Grinding Machine; X & Z axis,
5- Ball screw for Electro-discharge Machine (EDM); X & Y axis,
6- Ball screw for Wire Cut (EDM), Punching Press; X & Y axis,
7- Ball screw for Wood Working Machine
Semiconductor Machines:
Chemical Treatment, Inserter, PCB Driller
Industrial Tools:
Orthogonal Type, Multi-joints Type, SCARA Type, Rod Control, Mechanical Snubber, Machines for steel holding, Injection Moulding Machines
Mounting & un-mounting:
Please follow the instructions given in the following video for the mounting & un-mounting of the Ball Screw.