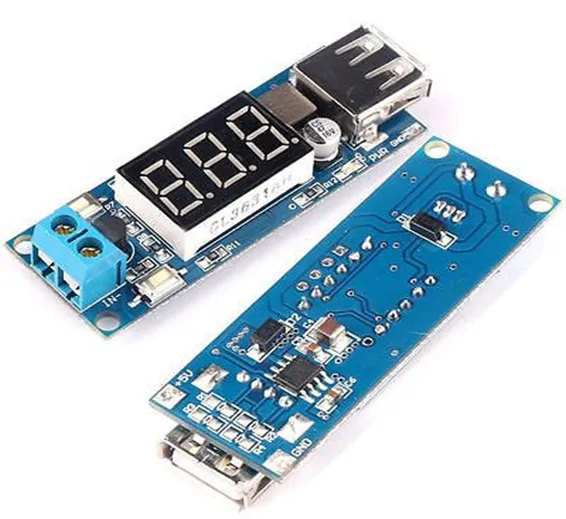 Other Modules
DC 4.5-40V To 5V 2A USB Charger DC-DC Step-down Buck Converter Voltmeter Module
SKU: B353,IMP,Th,KRT
Specification:
Modle: YS-04 Name: Step down voltmeter module Input voltage: DC 4.5 ~ 40V Output voltage: 5V (when the input voltage is between 6.5V ~ 40V) Output current: 2A Size: approx 5.7 x 2 x 1cm(L x W x H) Application: can be used on car, electric bike, motorcycle for voltage measurement and to charge phone, iPad, Mp3 etc.
Feature: The voltmeter hasautomatic calibration function. With reverse connection protection. With overheat protection and short circuit protection. With USB power indicator light. High efficiency and low ripple.
Instructions:
When you need to charge the mobile phone, Ipad, MP3 and other digital products, touch the "output enable" button, then the USB power indicator light on, the USB output voltage 5V ; When you need to turn off the digital tube, touch the "low power" button, then the module into the ultra-low power standby mode, USB output is also turned off accordingly.
Package included:
1 x Step down voltmeter module