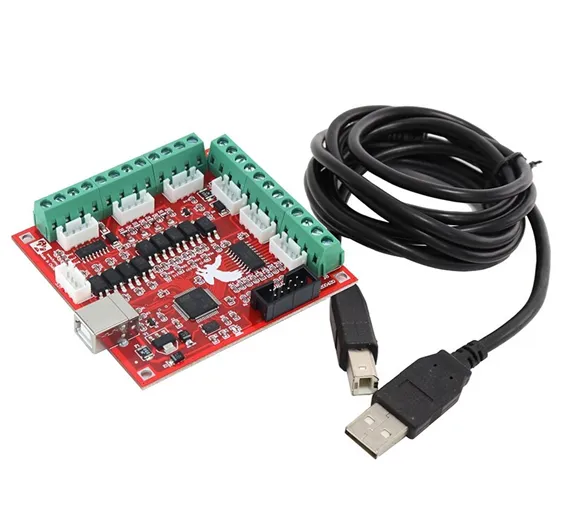 CNC
CNC USB MACH3 100Khz Breakout Board 4 Axis Interface Driver Motion Controller
SKU: b256
This 4 Axis CNC USB Controller is designed to be used for notebook and tablets simple configuration and compatibility. The card can run what all other MACH 3 controllers can run and supports the drive shaft and the driven shaft gantry supports automatic leveling and has an output pulse 100 KHz.
CNC USB MACH3 100Khz Breakout Board 4 Axis Interface Driver Motion Controller Features:
Support for 4-axis linkage you can connect four stepper motor drives or servo drives;
Maximum step-pulse frequency is 100KHz which is suitable for the servo or stepping motor;
Support automatic probe tool
Support Emergency input
Support for limit switch
Support for connecting electronic handwheel
Need use external 24V DC power supply to isolate USB and external port and to make the system more stable
Have 0-10V output port you can use mach3 software to control the spindle motor speed.
4 general-purpose inputs you can connect the limit switch estop switch probe switch back to zero and other device
4 general-purpose isolated relay drive output interface can drive four relays for controlling the spindle starts forward rotating and reverse rotating pumps and other device
1 status LED indicate connection status on the board
Manual and Driver Downloads Click On Links to Download or View
USB Motion Driver
Mach3 Configuration File RIGHT CLICK AND SELECT ""SAVE AS""
Setup Instructions
Step 1: Installing Mach3: You will need to purchase a Mach3 license and download the software. If you already have a licensed copy of Mach3 skip this step.
Step 2: Download the
USB Motion Driver
RnRMotion.dll from the link above and copy and paste the file into your Mach3 Plugins folder Example: ""C:/Users/ProgramFiles/Mach3/Plugins""
Step 3: Make sure you board is connected to the PC via USB cable. It should automatically recognize the USB device.
Step 4: Open Mach3 and you should be prompted to select a driver. Select the ""RnRMotionController"" and check ""Don't ask me again"". This will allow your board to communicate with Mach3.
Step 5: Download the XML Mach3 Config File above by right clicking on the link and selecting ""save as"". Save the Mach3Mill.xml file in your Mach3 root folder.
Package Includes:
1 x USB CNC Controller Card
1 x USB cable