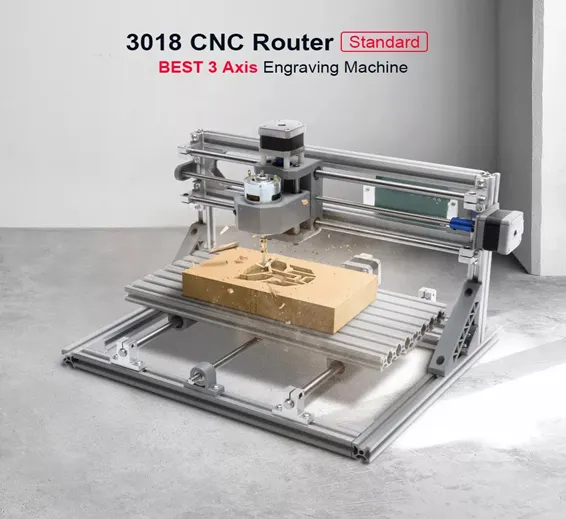 CNC
Cnc Engraving Machine Pcb Milling Machine Wood Carving CNC 3018
SKU: TMD,Th2,KRT
This is General purpose CNC Engraving PCB Milling Machine CNC3018 For study and research. This CNC engraver requires self-assembly and commissioning, assembly requires a certain mechanical knowledge Includes all the components required for assembly. It has 775 Spindle:(12-36V):12V, 3000rpm; 24V, 7000rpm; 36V, 9000rpm. Supported system: Win XP/Win7/Win8/Linux and Effective working area: X*Y*Z=300 * 180 * 45mm; Frame dimension: X*Y*Z=330 * 400 * 240mm. This CNC milling is suitable for carve wood, plastic, acrylic, PCB CCL, soft metal like copper and aluminum, and other materials, but can not carve hard metal, jade and other very hard texture of the items.
Features Of 3018 3 Axis Standard Spindle Motor Wood Engraving Machine Milling Engraver:
Assembly requires a certain mechanical skill. All assembly components are included.
Engraving Materials: The machine can carve wood, plastic, acrylic, PCB, or the like materials.
Can Not Engrave Hard metal (such as brass, steel, iron, etc), jade, and other very hard texture items.
Aluminum Profile Stable Construction
3 Axis Movable, Powerful Spindle Motor
Contains Quickstart Guide of GRBL Software
340x160x40mm Working Area, Meet Most Amateur DIY Needs
Specifications Of CNC 3018 DIY Mini CNC Router:
Model: Mini CNC 3018 (Without Laser Module)
Frame Material: Aluminum Alloy
Colour: Silver
Table Area: Approx. 340x160mm
Working Area: Approx. 340x160x40mm
Product Weight: 7.5kg
Control Software for Laser: Litefire
Interface: USB
Stepper Motor: 42 Stepper Motor, Voltage: 12V, Phase Current 1.3A, Torque 0.25N.m
System Requirements: Windows XP SP3, Win7, Win8, Win10.
Adapter Plug: 2-Pin US Plug
Adapter Input Voltage: AC 110-240V 50/60Hz
Adapter Output Voltage: DC 24V 4A
Control software: GRBL control
Construction: Aluminum + plastic
Working area: 300*180*40mm (frame size: 400*330*240mm )
Accuracy error range: 0.1-0.15mm
Spindle: 775 spindle motor (12-36V) 24V: 7000r/min, 36V: 9000r/min
Step motor: 1.3A 0.25N.m
Power supply: 24V 5.6A
Supported system: Windows XP/ Win 7/ Win 8/ Win10
Laser (options): 500mw/2500mw 12V 405nm5500mw 12V 450nm
Drill bits:Diameter: 3.175mm tip: 0.1mm length: 30mm(They are for woodworking, not for metal.)
Click me to Download the User manual
Package Includes:
1 x Wood Engraving Machine Full Set (Unassembled Delivery)
1 x 10 Cutters
1 x 4 Set Plates
1 x ER11
Best Online Shopping website for CNC Engraving Machine Pcb Milling Machine Wood Carving CNC 3018 Best Engraver CNC Router in cheap price in Karachi, Lahore, Islamabad, Rawalpindi, Sukkur, Peshawar, Multan, Quetta, Faisalabad, and all over Pakistan.