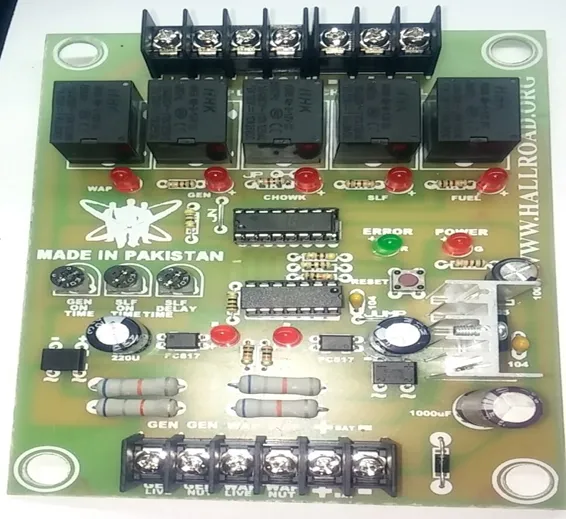 Complete AMF / ATS Function Electronic Card, Starts Generator when utility supply fails and puts a generator on load when power resumes generator turned off and utility supply put on load. with fuel solenoid/choke options and generator cool-down time provision.
Automatic Transfer KIT Switches (ATS) for Generator. This board is an automatic transfer switch which manages between Wapda and generator supply. It will Automatic transfer load to the generator when wapda will off, and automatically turn off the generator and switch to wapda if available
Generator auto start kit with these features.
Microprocessor based intelligence.
Adjustable self on time.
Adjustable Self Off Time
Adjustable gen on time(Shifting Time)
Fuel relay, With LED
Self-relay, With LED
Chowk relay, With LED
Wapda (Main) relay, With LED
Generator relay, With LED
Power LED
ERROR LED
Wapda Input LED
Generator Input LED
Reset button.
High-Quality long-life fiberglass PCB
4 tries.