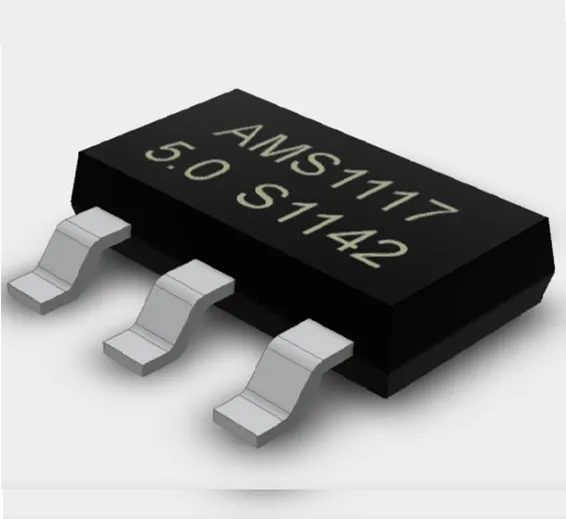 This AMS1117 1A LDO Regulator is a basic voltage regulator, based on the AMS1117 integrated circuit. AMS1117 is a must-have product for the 5 V electronic prototypes, allowing you to power the circuit from a wide range of input voltages.
FEATURES Of AMS1117:
Input voltage: 6 to 12 VDC
Output voltage: 5 VDC (± 0.05 V)
Maximum output current: 800 mA
Mounting holes
Power indicator LED
Package Contains:
Detail Description Of AMS1117 :
The AMS1117 is a popular SMD package 3-pin voltage regulator that is available in many models for fixed and adjustable voltage requirements. The IC can deliver a maximum current of 1A and the output voltage can vary from 1.5V to 5V. It also has a low drop out voltage of 1.3V when operating at maximum current.
PIN Configuration
| | | |
| --- | --- | --- |
| Pin Number | Pin Name | Description |
| 1 | Adjust/Ground | This pin adjust the output voltage if it is a fixed voltage regulator it acts as a ground |
| 2 | Output Voltage (Vout) | The regulated output voltage set by the adjust pin can be obtained from this pin |
| 3 | Input Voltage (Vin) | The input voltage which has to be regulated is given to this pin |
Features Of AMS1117:
Fixed/Adjustable 3-terminal Linear voltage regulator
Low Drop-Out (LDO) Voltage regulator
Fixed Voltage type: 1.5V, 1.8V, 2.5V, 2.85V, 3.3V and 5V
Variable Voltage Range: 1.25V to 13.8V
Output current is 1000mA
Maximum Drop-out Voltage: 1.3V
In-built Current Limiting and thermal protection.
Operating junction temperature is 125°C
Available in SOT-223, TO-252 and SO-8 Package
Note: Complete Technical Details can be found at the datasheet provided at the end of this page.
Alternative Voltage Regulators: LM317, LM7805, NTE9060
Alternative for AMS1117: LM1117