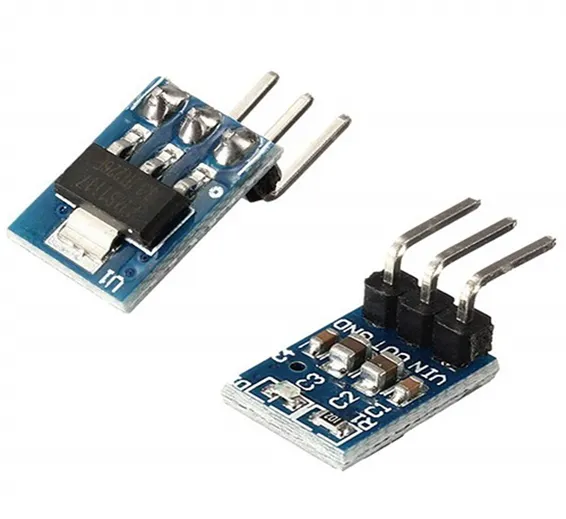 Other Modules
AMS1117-3.3 DC Buck Converter Voltage Regulator 3Pin Step-Down Power Supply Module in Pakistan
SKU: B 230,D165,IMP50,Th20,KRT,N93
Extra small size AMS1117-3.3 power module, support DC 4.2V-10V to 3.3V 800mA constant voltage output.VIN, OUT, GND 3 pin can be easily connected with your MCU development board, and supply capacitive power supply. Matched with AMS1117-3.3 LDO chip, supply stable low-voltage power supply for all kinds of Arduino / ESP, etc. microcontroller electronic experiment. Can not work above the operating voltage or reverse polarity, otherwise, the module will be damaged easily.
Specifications:
Product Name: AMS1117-3.3 Power Module
Module Size: 8.6x12.33mm
Input Voltage: DC 4.2V-10V
Output Voltage: 3.3V
Output Current: 800mA
Connection Mode: 3PIN
VIN connect to input positive pole
OUT Connect to output positive pole
GND connect to input/output negative pole
Note:
Please do not work above the operating voltage, or it will be damaged easily.
The input voltage must be 1.5V or 2V higher than the output voltage, otherwise, it can not output enough power.
Please do not reverse polarity, or it will be damaged because of a short circuit.
Package Include:
1XAMS1117-3.3 DC Buck Converter Voltage Regulator 3Pin Step-Down Power Supply Module