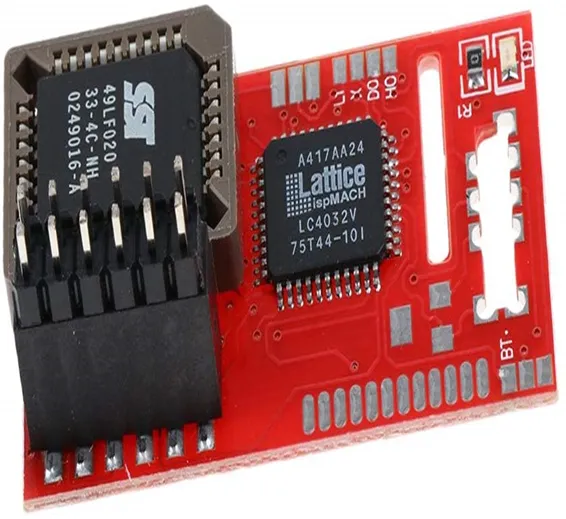 Overview of Aladdin XT Plus 2 XBOX Mod Chip:
One of the most feature-packed low budget mod chips for Xbox. Reliable and easy to install.The Aladdin Advance XT is compatible with all XBOX models, including the V1.6B. Microprocessor controlled functions: can be disabled for XBOX LIVE and flash protected via XBOX power and eject buttons. Modchip modes are shown via different colours on the XBOX eject button LED. Flash upgradable via CD-RW / DVDR and EvolutionX dashboard. Also supports quick solder and Pinheader install options. This model have 4032 chip.
Software Features of Aladdin XT Plus 2 XBOX Mod Chip:
Evox M8plus BIOS 'M8plus_16.bin'
Play all backups
Play all homebrew
Play all original imports
Run Debug Executables
LBA48 Hack
Allows you to upgrade Xbox harddrive upp to 2TB!
Embedded In Game Reset (IGR)
Compatible with all EvolutionX software
No-patch hack
Eject trick hack
Auto patch new media flag titles
Support for Xbox 1.6 and 1.6b
Works on all regions
Hardware Features of Aladdin XT Plus 2 XBOX Mod:
Power LED indicator
Updated core
LPC bus timing code optimized for flawless 1.6x performance
Powerful transistor driver for D0 - no need to use short cables for D0 ;)
Two boot modes; Off-On
Female pinheader mounted on pcb
Separate Male-Male pinheader included
Socket for flash
Can be flashed (upgraded)
Compatible with SST 49LF0x0 and 49LF0x0A
Open tool design
Compatible with Xbox1 v1.0 - v1.6B
Modes:
Off - Tap the powerbutton and the Xbox starts as normal with the original BIOS.
On - Press and hold powerbutton for 1 second and the Aladdin XT PLUS2 is activated.
Package Includes:
1 x Aladdin XT Plus 2 XBOX Mod Chip