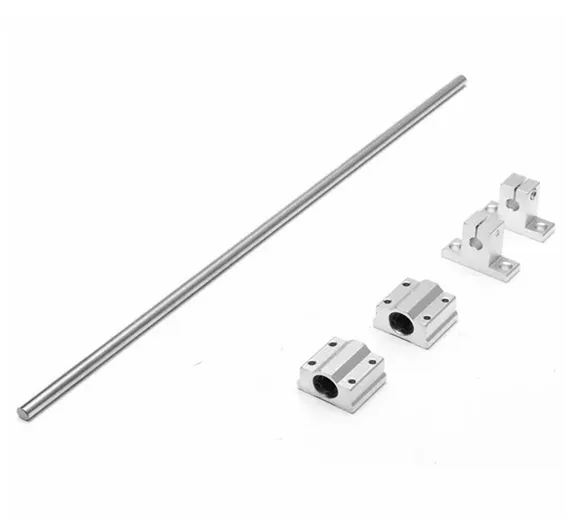 CNC
8mm x 500mm Linear Rail Shaft Rod with Bearing Guide Support and Bearing Block
SKU: TMD20,TH0,KRT
mm x 500mm Linear Rail Shaft Rod with Bearing Guide Support and Bearing Block for CNC applications.
Specifications:
Optical Axis Material Stainless steel Color Silver Diameter 8mm Total Length 500mm Rail Shaft Support Material Aluminum Color Silver Hole diameter 8mm Total length 41mm Height 32mm Linear Slide Block Material Aluminum Color Silver Bore diameter 16mm Hole diameter 8mm Total length 33mm Height 21mm
Features:
Good wear resistance and strength, high accuracy, hard to rust.
Has good performances, low friction coefficients and long usage spans.
Suitable for Industrial automation equipment, stepper motor rails, such as 3D printers, engraving machine, XYZ module, slider, lifts etc.
How to install:
1. Put Linear Slide Block into the Lead rod. 2.Then the Rail Shaft Support separately install at both ends of the Lead screw. 3. According to the size of you need to adjust the distance between the nut and Mounted ball bearing. 4. Put shaft coupling into the Lead screw beside the Mounted ball bearing.
Package Includes:
1 X Optical Axis 500mm 2 X Aluminum Rail Shaft Support 2 X Linear Slide Block