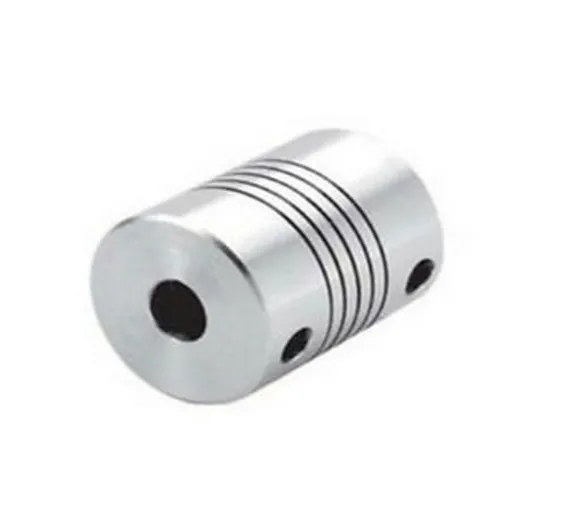 CNC
6x10mm Flexible Coupling Shaft
SKU: B237
Best Online Shopping website for 6x10mm Rigid Flexible Coupling Shaft Here you get 6x10mm Rigid Flexible Coupling Shaft in reasonable price in Karachi, Lahore, Islamabad, Rawalpindi, Peshawar, Multan, Quetta, Faisalabad and all over Pakistan.
6x10mm Flexible Coupling Shaft can connect your driving shaft with the driven shaft. 6x10mm Flexible Coupling Shaft, it is very efficient in eliminating any misalignment to the possible extent. Minimum backlash is another great advantage of this Aluminium Flexible Coupling. This Flexible coupling with the outer diameter of 19mm and the length of 25mm is machined aluminium coupling. First bore diameter is 6mm and the second bore diameter is of 10mm also. It comes with the spiral cut in the middle along its length which makes it flexible so they can be fit to two shafts even if they are not perfectly co-linear and will help reduce binding effects. Such couplings are also known as Beam coupling, helical coupling, Flexible coupling.
We have also a large variety of coupling in different sizes like 6x6, 6x8, 6.35x8, 6.35x10 etc.
Features of 6x10mm Flexible Coupling Shaft:
Absorption of parallel, angular misalignments and shaft end-play by spring action.
Corrosion resistance and High Durability.
For little torque, shaft connect.
One-piece construction with long-lasting performance.
Low moment of inertia offering constant velocity.
Widely used in drive systems for encoders, instrumentation, lead screws, small pumps, feed rollers and anywhere light to medium duty, torsionally flexible coupling is required.
Specifications of 6x10mm Flexible Coupling Shaft:
Material: Aluminum Alloy
Outer Diameter: 19mm
Length: 25mm
First bore diameter: 6mm
Second bore diameter: 10mm
Main Color: Silver Tone
Torsional stiffness: Zero backlash
Standard or Nonstandard: Standard
Structure: Gear, Flexible or Rigid
Package Includes :
1 x 6x10mm Flexible Coupling Shaft