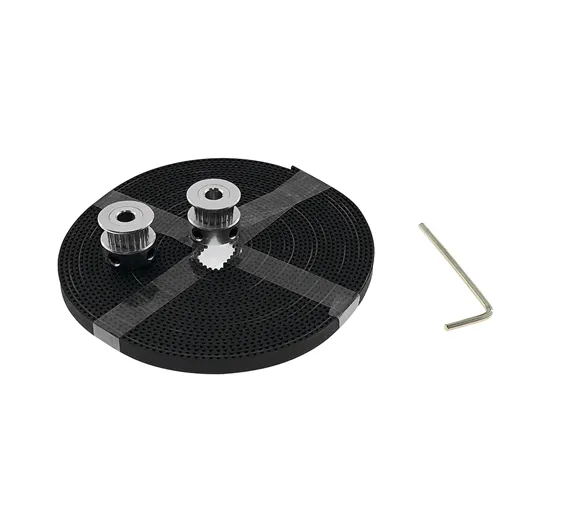 3D Printer
5mm 2 Meter GT2 Timing Belt with 2Pcs Of GT2 Pulley 16 Teeth
SKU: D33,B33,IMP100,Th50,KRT05,124,N187
The Pulley and The Timing Belt combo forms an integral part of the 3-D printer. These are used for the precision motion to print even the most intricate designs. GT2 Timing Belt Pulley is widely used in the 3d printer. GT2 Timing Belt pulley Specially design for NEMA 17 stepper motor used in 3d Printer. The Aluminum GT2 Timing Pulley 20 Tooth 5mm Bore For 6mm Belt is for precise motion control, GT2 belts, and pulleys offer excellent precision at a great price. This pulley has 20 teeth and a 5mm inner bore. Two set screws can be used to attach it firmly to any 5mm diameter shaft. Full aluminum construction means these are very light and very durable.
Specifications of pulley:
Number of teeth: 16
Outer Diameter: 13 mm
Inner Diameter: 5mm
Package Includes :
2 x 16 Teeth GT2 Aluminum Pulley
1 x 2-Meter length GT Fiberglass Reinforced Rubber Open Belt (5m pitch x 6mm wide).