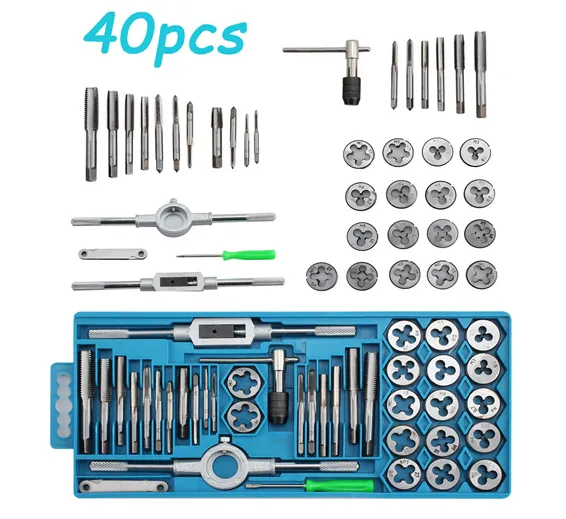 Hardware Tools
40Pcs Metric Tap Wrench and Die Pro Set M3-M12 Nut Bolt Alloy Metal Hand Tools
Availability:
Out Of Stock
SKU: TMD,Th,KRT
Description:
Metric set
17pcs dies
14 pcs taps
1 pc thread finder
1 pc stubby screwdriver
1 pc "T" handle tap wrench
1 pc die stock handle wrench
1 pc plastic bit carrying case
1 pc adjusatable tap handle wrench
idael usage to rather
Features:
Made from high quality alloy.
Supplied with plastic storage case.
Suitable for cleaning mild steel or aluminium&House decoration,construction,car repair,factory work.
Plug Taps are Suitable for cleaning & Re-Threading Mild Steel and Aluminium Materials.
This set is not supplied with any taper taps for threading new holes.
Containing one tap and die in each of the following sizes:
Tap: 16pcs (2pcs each type)
2x M3X0.5 / M4X0.7/ M5X0.8 / M6X0.75 / M7X0.75 / M8X1.0 / M10X1.25 / M12X1.5
Die: 16pcs (2pcs each type)
2x M3X0.6 / M40.75 / M5X0.9 / M6X1.0 / M7X1.0 / M8X1.25 / M10X1.25 / M12X1.75
2x "T" Handle tap wrench 1/4
1x Die Handle (M25)
1x Screw driver
1x Screw pitch gauge
1x Wrench holder (M25)
1x 1/8 NPT
1x Long handle adjustable tap wrench1/2(M3-M12)
Specification:
Material: Alloy
Size Range: M3-M12
Package Included:
1x40Pcs Metric Tap Wrench and Die Pro Set M3-M12 Nut Bolt Alloy Metal Hand Tools
SKU:

TMD,Th,KRT

/
Category: Tools
/