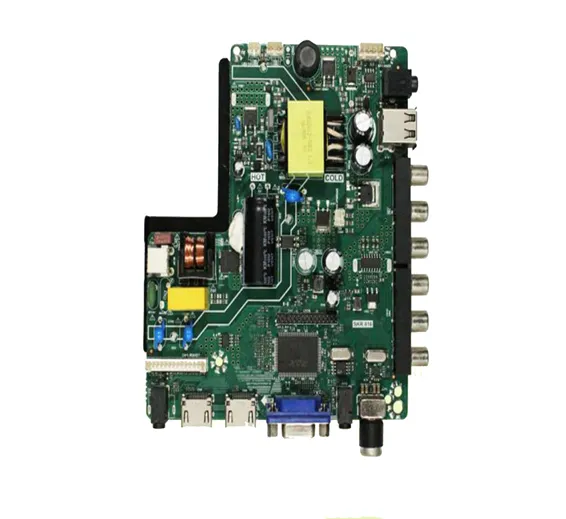 LED TV
28 to 32inch FHD LCD / LED TV Main Board (ZYCF-T. R83.816)
Availability:
Out Of Stock
SKU: IMP10,TH2,KRT
MODEL: ZYCF-T.R83.816 FEATURES MAIN CHIPSET RDA8503-XBN OSD LANGUAGE Asia English,Hindi,Simplified , Chinese,Khmer,Myanmar,French, German,Italian,Spanish PANEL PANEL Type TFT LCD Panel Size 28"-32" Interface Single/Dual LVDS Max Resolution 1920*1080 VIDEO INPUT TV(Details in 3.1) ATV(PAL/NTSC/SECAM) PC-RGB Format Up to 1920*1080@60Hz CVBS Video System PAL/NTSC Video level 1.0 Vp-p±10% Component 480i,480p,720p,1080i,1080p HDMI 480i,480p,720p,1080i,1080p CEC,*ARC(HDMI 1) HDCP Version 1.4 AUDIO INPUT PC Audio Earphone input 0.2~2.0 VRMS CVBS L/R RCA input 0.2~2.0VRMS Component AUDIO OUTPUT CVBS Audio L/R RCA Output 250mVRMS±10% COAX PCM/RAW Frequency rexponse 100Hz~15kHz @±3dB (1KHz 0dB refernce signai) Output power TYPE 2x5W(8Ω) MAX 2x8W(8Ω) POWER TO PANEL 12V USB FUNCTION software upgrade,muitimedia play Button Types Ground Key Interface TV SYSTEM ATV Reception range 48.25MHz~863.25MHz Input impedance 75Ω Video System PAL,NTSC,SECAM Sound System BG,DK,I,M Max storge Channels 199CH Main Promotion Power and Backlight Spec Power Power Output voltage Backight value Backlight Connectors 48W 12V/19V 30V-44V/25W 2PIN-2.0+3PIN-2.0 or 2PIN-2.0+2PIN-2.0 48W 12V/24V 45V-63V/25W 48W 12V/32V 64V-94V/25W 48W 12V/19V 34V-54V/25W
Function Layout 1.Main view Terminal Configuration
NO. Position Description NO. Position Description 1 CNK6 IR & KEY 5 CNB821,CNB822 2PIN LED LIGHT BAR 2 CN2 LVDS 6 *CNB832 3PIN LED LIGHT BAR 3 CNB2 PWR UPGRADE 7 CNB1 AC INPUT 4 CN18 SPEAKER The optional connectors and functions are marked with"*"
2.Front View Terminal Configuration
NO. Description 1 (Mini)AV OUT 2 HDMI1 IN 3 HDMI2 IN 4 VGA IN 5 PC AUDIO IN 6 RF IN
3.Side View Terminal Configuration
NO. Description 1 CVBS1 VIDEO IN 2 CVBS1 ADUIO L IN 3 CVBS1 AUDIO R IN 4 CVBS2 VIDEO IN 5 CVBS2 AUDIO L IN 6 CVBS2 AUDIO R IN 7 USB1 IN 8 USB2 IN 9 EARPHONE OUT