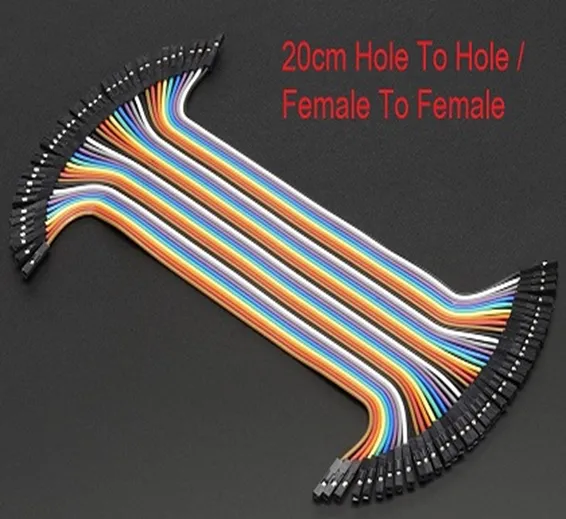 SKU: B260,IMP500,Th100,KRT
20Cm Hole To Hole Jumper Wrie Dupont Line 40 Pin Arduino Jumper Wire also named as female to female jumper wire is very useful while prototyping electronics circuit. A jump wire (also known as jumper, jumper wire, jumper cable, DuPont wire, or DuPont cable – named for one manufacturer of them) is an electrical wire or group of them in a cable with a connector or pin at each end (or sometimes without them – simply "tinned"), which is normally used to interconnect the components of a breadboard or other prototype or test circuit, internally or with other equipment or components, without soldering. Individual jump wires are fitted by inserting their "end connectors" into the slots provided in a breadboard, the header connector of a circuit board, or a piece of test equipment.
Handy for making wire harnesses or jumpering between headers on PCB's. These premium jumper wires are 6″ (150mm) long and come in a 'strip' of 40 (4 pieces of each of ten rainbow colors). They have 0.1″ male header contacts on either end and fit cleanly next to each other on standard-pitch 0.1″ (2.54mm) header. The best part is they come in a 40-pin ribbon cable. You can always pull the ribbon wires off to make individual jumpers, or keep them together to make neatly organized wire harnesses.
Features:
Color: as shown in the pictures.
Material: high-grade copper wire.
Each cable length: about 20cm /8-inch.
100% brand new and high quality 20cm Multicolored 40-pin Breadboard Jumper Wires Ribbon Cables.
Include one 40-pin male to female jumper wires, one 40-pin male to male jumper wires, one 40-pin female to female jumper wires.
The male ends meant for insertion into standard 0.1″(2.54mm) female sockets and the female ends are meant for insertion onto standard 0.1″(2.54mm) male headers.
The cables can be separated to form an assembly containing the number of wires you require for your connection and to support non-standard odd-spaced headers.
Portable design, easy and safe to use.
Package includes:
1x Jumper cable
SKU:

B260,IMP500,Th100,KRT

/
Category: Components
/