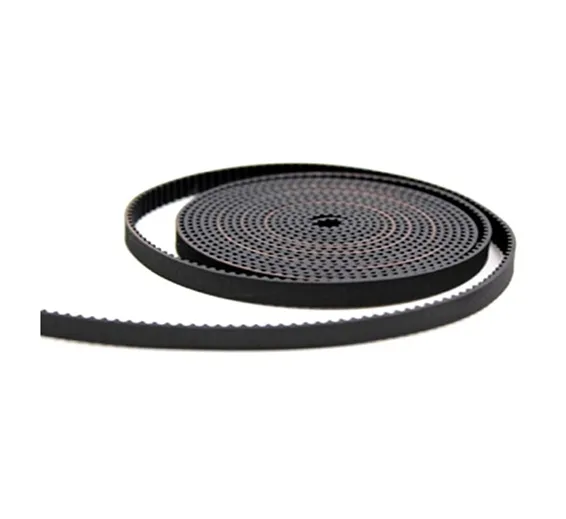 3D Printer
1Meter 7mm Width GT3 Open Timing Belt For CNC and 3D Printer
SKU: TMD20,Th5,KRT
Highest quality precision GT3 Width 6mm Black Open Timing Belt For 3D Printer. Made from NEOPRENE – Synthetic Rubber reinforced with fiberglass cords for superior strength. Neoprene – an oil-resistant substitute for natural rubber, was invented by DuPont scientists on April 17, 1930.
The balanced combination of the Polymer's properties
1. Resists degradation from the sun, ozone, and weather. 2. Performs well in contact with oils and many chemicals. 3. Remains useful over a wide temperature range. 4. Displays outstanding physical toughness. 5. Resists burning inherently better than exclusively hydrocarbon rubbers. 6. Outstanding resistance to damage caused by flexing and twisting.
The Timing Belt is also called the synchronous belt is popularly known for its non-slipping mechanical drive belt. It is composed of a flexible belt that contains a row of teeth embedded on the inner surface of the belt. Timing Pulley and belt works when the toothed parts become compatible with each other.
It is a belt that usually features teeth on the inside surface, while a timing chain is a roller chain. Widely used in mechanical devices, printers/photocopiers, 3d printers, robotics, automation, etc.
Features :
Precision registration and timing with no loss of high torque carrying capability
Minimal vibration and chordal effect positive slip-proof engagement
Wide speed range, especially important when the entire speed range is developed from a single source
Virtually no elongation (stretching) due to wear
Power transmission efficiency is not lost with the use
A clean operation, no need for lubrication
Reduced noise.
Long, dependable trouble-free service.
Package Includes :
1 x 1Meter 7mm Width GT3 Open Timing Belt For CNC and 3D Printer.