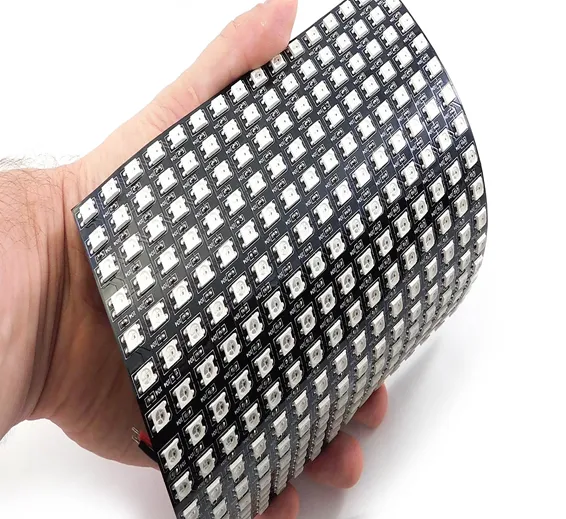 Other Modules
16x16 256 pixels WS2812B Individually Addressable RGB LED Matrix Panel
SKU: TMD,Th,KRT
Combined with Arduino, Fishino, Raspberry or other microcontroller, this flexible panel equipped with 256 Neopixel LEDs (16×16) with WS2812B chip, allows you to create animations, writings, drawings, etc. The distance between each LED is 10 mm (from center to center). It has two connectors, one as an input and the other as an output that allows multiple panels to be connected in cascade to form even larger screens. Power supply: 5 VDC, dimensions (mm): 160
Product Description:
Model: WS2812B 16*16 LED Matrix panel
Light source: Taiwan Epistar SMD 5050 RGB
IC: WS2812B (WS2811 IC built-in RGB chip)
LED Quantity: 16*16 256 Pixels
FPCB board size: Width/17cm, Thickness/0.3cm
FPCB colors: black
Gray level: 256
Emitting Color: Full color (24-bit)
Plate: soft copper
Beam Angle: 120 °
Power: 75W
Standard operating voltage: DC 5V
Waterproof: IP20 not waterproof
Working Life: >50,000 hours
Working temperature:-20°C~40°C
Packing includes:
1X 16*16 256 pixels WS2812B LED panel (without power and controller)
Features:
-Highly smart. Each LED is individually addressable. You can set each LED as you wish to scroll messages or draw little images -Wide compatibility. It works great with Arduino, Raspberry Pi, FastLED library, Adafruit NeoPixel Library, Rainbowduino, SP103E, SP105E, T1000S, etc. -Chainable and bendable design. You can extend the panel by hooking them up one by one with the 3pin JST connectors. Flexible FPCB can be gently bent and curved around surfaces. -Save your money. It works almost the same as NeoPixel but much cheaper than NeoPixel. It is sturdy, beautiful and very comparable to other similar products. -Wide application: It can be used to make the led screen, led wall, advertising board and widely applied to hotel, KTV, bars, Outdoor advertising signs, Christmas or wedding party decoration, etc.
Note:
-With 256 LEDs, you could use over 15A of current if you turn on all the LEDs on to white (which we really do not recommend because we don't think the flex PCB can handle that much current).
Real picture: