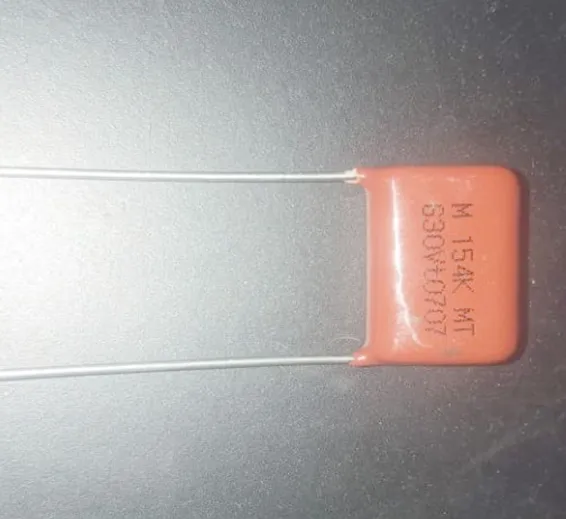 Overview of 154K 630VDC Metal Film Capacitor:
Metal Film Capacitor are non-inductively wound or stacked with metallized polypropylene film as dielectric/electrod with copper-clad steel leads and epoxy resin coating.
Features Of 54K 630VDC Metal Film Capacitor:
Low dissipation factor high insulation resistance.
High stability of capacitance and DF versus temperature and frequency.
Low loss at high frequency/Small inherent temperature rise.
Applications of 54K 630VDC Metal Film Capacitor:
Widely used in high frequency ,DC ,AC and pulse circuits.
Suitable for the situation where applies high frequency and high current pulse.
Large-screen displays and TV S correct circuit design
Electronic devices, differential motor, electric tools, lighting,air conditioner, refrigerator,washing machine and household appliances and power system.
Specifications of 54K 630VDC Metal Film Capacitor:
Rated Voltage: 630VDC Operation Temperature Range: -40°C - +85 °C Capacitance Range 0.001 μF – 3.3 μF Capacitance Tolerance Range J( ±5%) K( ±10%) Dielectric Polypropylene Film Dissipation Factor Tan δ C≤1µF ≤0.1% (10KHZ)
Package Includes:
1 x 154K 630VDC Metal Film Capacitor