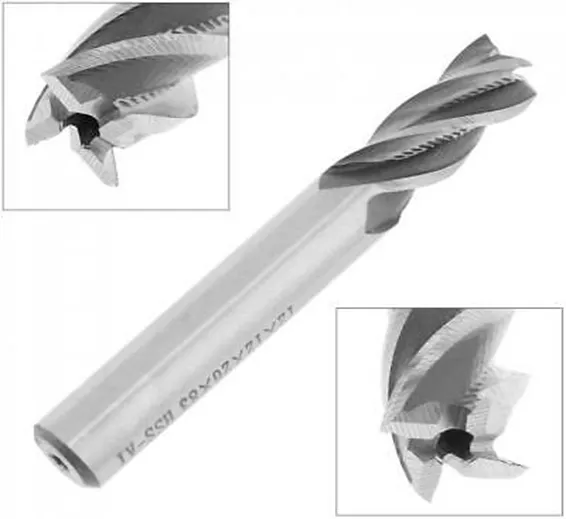 CNC
12mmx27mmx83mm Flute HSS End Mill Cutter with Super Hard Straight Shank Hot in Pakistan
SKU: B:302
An end mill is a type of milling cutter, a cutting tool used in industrial milling applications. It is distinguished from the drill bit in its application, geometry, and manufacture. While a drill bit can only cut in the axial direction, a milling bit can generally cut in all directions, though some cannot cut axially. Features:
- Mill cutter, often used to be assembled on a milling machine.
- High-speed steel material, high toughness, abrasion resistance, high-speed cutting.
- Can milling of tool steel, cast iron, carbon steel, alloy steel, copper, etc.
- Can processing directly or fine processing to the heat treatment mold
- Suitable for CNC data processing center, high-speed machines
- Reducing the number of tool changes, improve the actuator movement rhythm
Material: High-Speed Steel
Material: High-Speed Steel
Coating: None Type: End Mill
Application: Carving, Cutting, Slotting, Milling, Hollow Cut Suitable
Materials: Tool Steel, Cast Iron, Carbon Steel, Alloy Steel, Copper etc
Size:
- Blade Diameter: 12 mm
- Shank Diameter: 12 mm
- Shank Length: 27 mm
- Overall Length: 83 mm
Note:
- Please allow 1-5mm errors.
- the color display displayed in your computer screen
Use tooltips:
- In order to obtain a better cutting surface and extend tool life. Be sure to use high precision, high rigidity, and dynamic balance.
1.Before using this tool, the deflection of the tool. When the defect of the tool is more than 0.01mm, please correct it and then cut.
2.The shorter the extension of the cutter, the better. If the extension of the tool, and the speed or cutting quantity.
3.If the vibration is produced during cutting, please reduce the spindle speed and cutting amount.
4.The steel is cooled by spray or jet. Stainless steel alloys or heat resistant alloys are recommended for use with non-water-soluble cutting fluids.
5.The above data is for reference only, and the cutting condition is stable according to the influence of the work piece, machine, and software
Package Include:
1 x 12mmx27mmx83mm Flute HSS End Mill Cutter with Super Hard Straight Shank