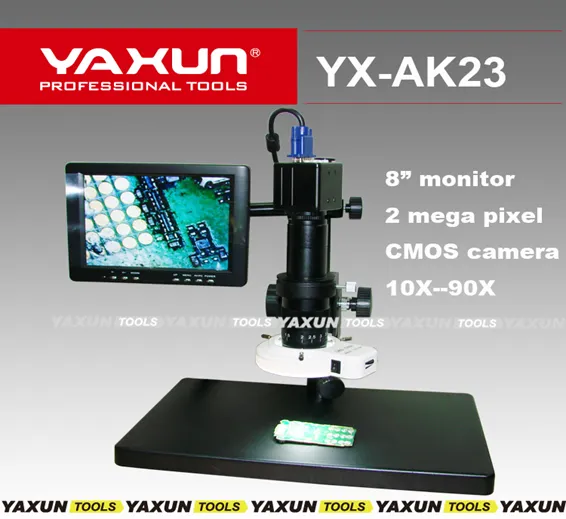 Camera Accessories
Yaxun Ak-23 Digital Microscope With 8" Lcd Monitor 2 Mega Pixel Cmos Camera Vga Output 10x--90x Continue Zoom
SKU: RAWLIXYax
Aplication:
YAXUN AK23 LCD display microscope,quality products using video microscopy bracket: Widely used in microelectronics, mold, powder metallurgy, precision machinery, jewelry, watches, jewelry, fingerprint identification, tickets pseudo-knowledge, printing, fiber, mobile phone repair, archaeological, biological anatomy, school teach other fields.
Specification:
VGA: 1600x200( max)
Objective lens: 0.7X-4.5X continuous zoom
Eyepiece: 0.5X
optical zoom: 10x--90x ( 25.2x--162x ,when use 14" monitor)
Cmos camera detail:
2 mega pixel 1/3 inch CMOS, effective pixels 1600 x 1200,15 to 45 frames / sec, definition 900 lines.
HD VGA industrial camera with 8 horizontal line and eight vertical movement, through the menu choose which one to eight, VGA output maximum resolution of 1600 x 1200 60Hz
If you use a 8 inch display,choose the resolution of 800 x 600 60z, if the use more bigger than 19 inches display monitor, choose the resolution of 1200 x 1600 60Hz. If you look at the motion of the object, using high resolution frame rate.
Package Include:
1xYaxun Ak-23 Digital Microscope With 8" Lcd Monitor 2 Mega Pixel Cmos Camera Vga Output 10x--90x Continue Zoom
SKU:

RAWLIXYax

/
Category: Camera
/