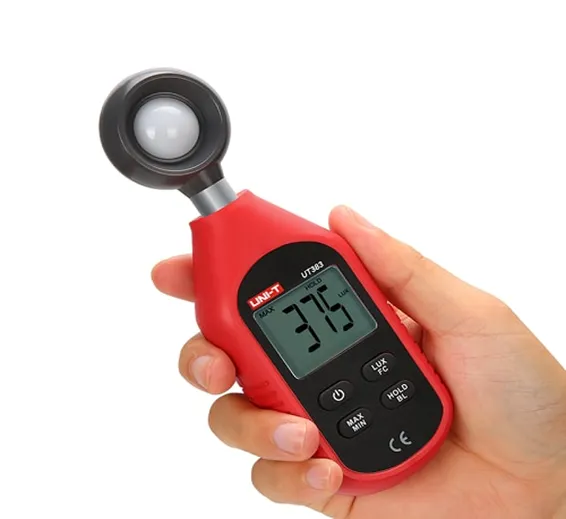 Lights
UNI T UT383 Digital Mini Lux Light Meter Uni T Light Intensity Meter
SKU: TMD1,Th6,KRT
UNI T Digital Mini Lux Light Meter UT383 is a mini meter equipped with photoelectric sensing technology. UT-383 digital lux meter, which can effectively represent light intensity with electrical signals, then processes data and displays the result on LCD. This light intensity measurement device is lightweight, compact, ergonomic, and user friendly. The UT 383 best light meter is a great tool for monitoring light intensity in homes, offices, schools, laboratories, indoor farming, hospitals, and other areas.
Features Of UNI-T UT383 Mini Light Meter Luxmeter:
Hand-held
3x AAA battery powered
Units of measurements: Lux or FC
The housing has been carefully shaped to fit comfortably in either hand.
Minimum, Maximum, and Hold buttons
Soft power ON, push on push off
Large-screen display, clear reading
Light Weight and hard shell, nice shape, easy to use.
Specifications Of Illuminometer Light Level Meter UT-383:
Illuminance measurement (LUX): 0~199,900Lux
Illuminance measurement (FC): 0~18,500Fc
Accuracy: 0~9999Lux/0~999Fc: ±(4%+8), ≥10000Lux/≥1000Fc: ±(5%+10), ≥100000Lux/≥9999Fc: ±(5%+10)
Resolution: 1Lux (0~9999Lux), 10Lux (≥10,000Lux), 100Lux (≥100,000Lux), 1Fc (0~9999Fc); FC=Lux/10.76, 10Fc (≥10,000Fc); FC=Lux/10.76
Sampling time: 0.5s
Overload indication: OL
MAX/MIN: Yes
Data hold: Yes
LCD backlight: Yes
Auto power off: Yes
Low battery indication: Yes
Power: 1.5V battery (R03) x 3
Display: 32mm x 26mm
Product color: Red and grey
Product net weight: 118g
Product size: 160mm x 50mm x 28mm
Package Includes:
1 x UNI-T UT383 Mini Light Meter
Best Online Shopping website for UNI T Digital Mini Lux Light Meter UT383 Illuminometer Best Lumen Meter Luxmeter Light Intensity Measurement Device Light Intensity Tester at a cheap price in Karachi, Lahore, Islamabad, Rawalpindi, Peshawar, Multan, Quetta, Faisalabad, and all over Pakistan.