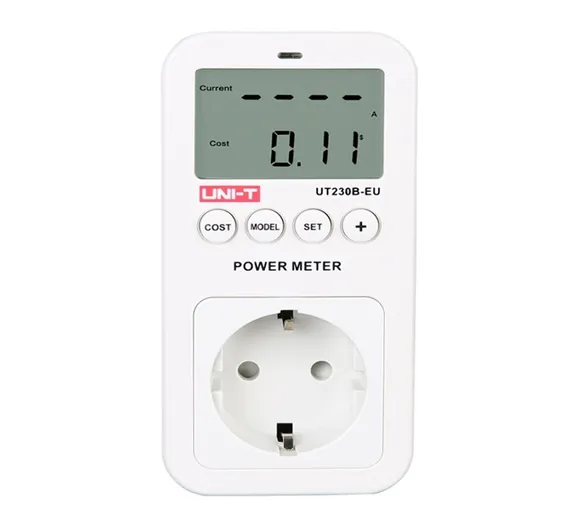 UNI T Power Socket Power Meter UT230B-EU can be inserted to monitor operation status (voltage, current, time, and power consumption) of electrical appliances. The EU type socket jacks are designed to meet the needs of different regions with proper certifications. This power plug switch is ideal tools for maintaining equipment power consumption and managing energy saving in homes, offices, schools, and other places. UT230B best power meter detects the electrical appliance's (load)voltage/current/power/power factor/frequency/electric quantity/CO2 emission load/total time/cost, etc.
Features Of Power Meter Socket UNI-T UT230B-EU:
Clear LCD dual display
Current overload protection
User-defined electricity cost calculation
CO emissions measurement
Built-in button battery with power-off memory function
Passed 10000 socket insertion force tests
Specification Of Digital Voltage Wattmeter Power Meter Power Analyzer UT 230B EU:
Voltage: 100.0V-260.0V ±1%
Current: 0A-16.00A ±1%
Operating Frequency: 45Hz ±1%
Power: 0-3680W ±1%
Power Factor: 0-1.00 ±2%
Energy consumption: 0-9999kWh ±1%
Unit Price of Electricity: 0.00-99.99 ($/kWh)
Accumulative Time: 0 minute-9999Days
Accumulative Charge: 0-9999$
CO2 Display: 0-9999kg
Power Consumption: Max. 0.4W
Overload indication: 16A
Power: 3.0V Button Battery
Weight: 140g
Size: 130x65x59mm
Package Includes:
1 x UNI-T UT230B-EU Power Socket
1 x User Manual
Best Online Shopping website for UNI T Power Socket Power Meter UT230B-EU EU Plug Type Electric Power Socket Plug Digital Voltage Wattmeter Power Analyzer in cheap price in Karachi, Lahore, Islamabad, Rawalpindi, Sukkur, Peshawar, Multan, Quetta, Faisalabad and all Pakistan.
SKU:

TMD1,Th6,KRT

/
Category: Meters
/