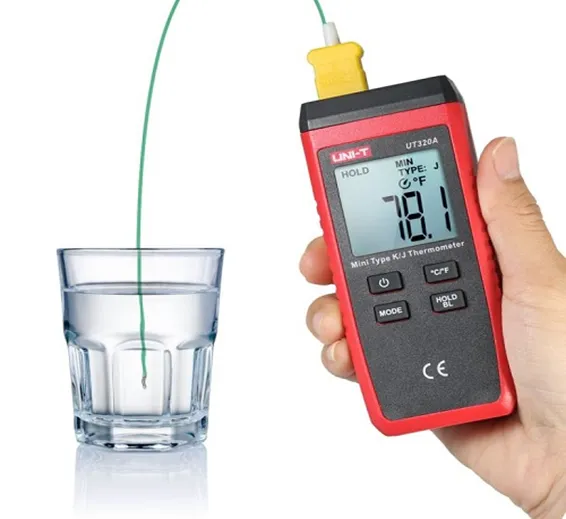 Lights
UNI T Digital Contact Type Thermometer UT320D
SKU: TMD1,Th6,KRT
UNI T Digital Contact Type Thermometer UT320D is a two-channel contact thermometer. This contact type meter has a high accuracy thermometer has a wide temperature range. This mini digital thermometer can be used with both K and J temperature sensors. Furthermore, this UT-320D meter has the ability to display both temperatures simultaneously and determines a difference.
Features Of Mini Contact Type Thermometer Uni-Trend UT-320D:
1m drop proof
4 times per second sampling rate
Maximum-minimum-average
Data hold
LCD backlight
Wide range, high accuracy
K-J thermocouple probe selection
CE certification
Difference measurement: T1~T2
Auto power off
Low battery indication
Specifications Of Dual-channel K/J Thermocouple Thermometer Temperature Measurement Device:
Temperature measurement (K): -50℃~1300℃
Temperature measurement (K) accuracy: ±(0.5%+1)
Temperature measurement (J): -50℃~1200℃
Temperature measurement (J) accuracy: ±(0.5%+1)
Auto power off
: Yes
Low voltage display: Yes
Difference measurement (T1-T2): Yes
Data hold
: Yes
Unit conversion (℃-℉): Yes
Max-Min Avg: Yes
Function selection (K/J): Yes
Backlight: Yes
Working temperature: 0℃~40℃
Working humidity (relative): ≤80%RH
1m drop test: Yes
Power: 3 AAA Zinc-manganese batteries
LCD size: 37.4×36.4mm
Product color: Red and grey
Product net weight: 0.06kg
Product size: 120×53×28mm
Package Includes:
1 x UNI-T UT320D Mini Thermometer
1 x User Manual
Best Online Shopping website for UNI T Mini Contact Type Thermometer UT320D Digital Temperature Meter K-J Thermocouple Meter Contact Infrared Thermometer Temperature Measurement Device in cheap price in Karachi, Lahore, Islamabad, Rawalpindi, Sukkur, Peshawar, Multan, Quetta, Faisalabad, and all over Pakistan.