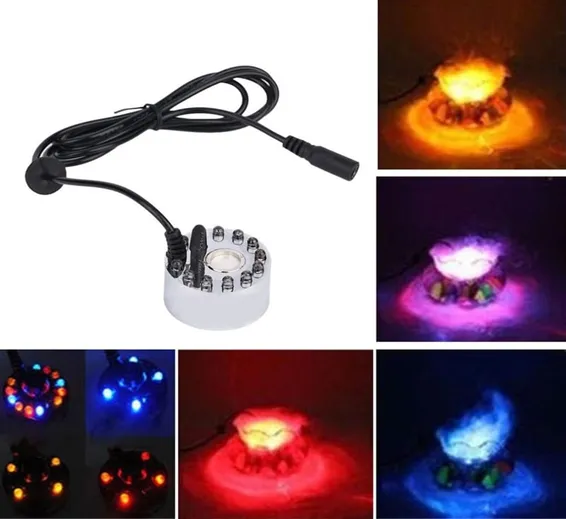 Lights
Ultrasonic Mist Maker Fogger 12 LED Colorful Light 1A 24V
SKU: B52,D97,IMP50,Th10,KRT
This Ultrasonic Mist Maker Fogger has required no heat or chemicals used. This best mist maker with 12 LED colourful light. 12 LED ultrasonic mist maker fogger is easy to operate, long service life, self-protective. This mist maker fogger water fountain ideal for indoor or outdoor fountains, water feature, and office. This ultrasonic humidity maker adds a stunning mist effect to your pond or water tank to filter the bad smell with electro and ultrasonic technology. This mist machine is a beautiful gift for your friends and family.
We have also Ultrasonic Humidifiers With Cotton Swab, Air Diffuser Mist Maker Moisture Air etc.
Features Of Ultrasonic Mist Maker 12 LED Colorful Light 1A 24V:
100% brand new, high quality.
Perfect and meticulous, exquisite workmanship and first-class quality.
Whether it is for your own use or for a friend, it is a good gift.
No heat or chemicals used. Adopt the principle of Electronic high-frequency oscillation.
Fogger contains a larger number of air negative ions and can increase the humidity of the air, making the air fresher!
With 12 LED colourful light. Easy to operate, long service life, self-protection
Specifications Of Best Mist Maker Fogger Water Fountain:
Power: 1A/24V (need to 24V power supply)
Cable length: 136 cm
Round thing height: 2.5cm
Body Material: ABS
Light Source: LED Bulbs
Item Type: Underwater Lights
Instructions:
Do not turn over the Mist Maker When the switch is turned on, keep upright, or it may damage the atomizer.
Please ensure that the daily running time is less than 10 hours, otherwise, the life of atomizing slice will be shorted.
Don't touch the atomizing slice while the Mist Maker is working.
Ensure the water at high quality, use clean tap water. (water quality deterioration may influence the lifetime)
Please switch off the power before Movement or maintenance.
The atomizing slice is consumable, and its service life is≥3000 hours. If marked reduction of Mist present, please clean atomizing slice with a cotton swab(don't need to use any detergent).
If marked reduction of Mist still presents after cleaning, please change a new atomizing slice. (Recommend to buy another atomizing transducer slice)
Package Includes:
1 x 12 LED ultrasonic mist maker fogger
Best Online Shopping website for Ultrasonic Mist Maker Fogger 12 LED Colorful Light 1A 24V in cheap price in Karachi, Lahore, Islamabad, Rawalpindi, Sukkur, Peshawar, Multan, Quetta, Faisalabad and all over Pakistan.