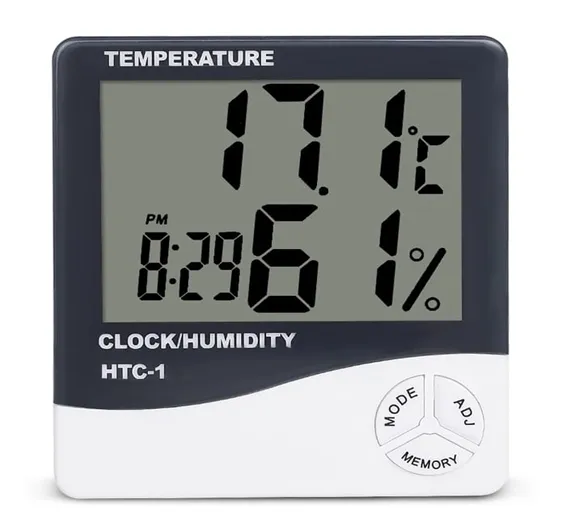 Lights
Temperature Humidity Meter HTC-1
SKU: TMD5,Th95,KRT138
Temperature Humidity Meter HTC-1 for the incubator. This thermometer is good for measuring the room box temperature and humidity level. This digital humidity meter has temperature range: -50 ~ 70 degrees (-58 ~ 158 ° F), large character LCD display, easy to read, lower power consumption This multifunction meter can show temperature, humidity and time display simultaneously. This meter to measure humidity has 2 temperature display modes: °C/°F6. 2-time display modes: 12/24H7. Max/Min Temperature and humidity memory function.HTC 1 mini humidity meter hourly chime function, daily alarm function, calendar display function (Month and date) and Integrated back stand for desktop use hanging hole for wall mounting.
Features Of HTC-1 Digital Electronic Thermometer Hygrometer:
Temperature and Humidity displayed in HUGE 1" high numbers.
MAX / MIN Humidity & Temperature are recorded automatically and can be reset by the user
Fahrenheit or Celsius readout (changeable by selecting F or C on the back)
12 or 24 hour time modes (changeable by using MODE & ADJ button to set)
ALARM function
MONTH & DAY display available by pushing ADJ button
Integrated back stand for desktop or table use OR hanging hole for wall mounting
Power: ONE standard AAA 1 .5v Battery
Time, and Temperature display, Humidity display; With the calendar, alarm clock and the maximum or minimum value of humiture memory functions; the convert of temperature and degree Fahrenheit, Talkclock.
Specifications Of HTC-1 Humidity Time Display Meter With Alarm Clock:
Temperature range: -50°C~+70°C (-58°F~+158°F)
Temperature accuracy: ±1°C (1.8°F)
Temperature resolution: 0.1°C (0.2°F)
Humidity range: 10%~99% RH
Humidity accuracy: ± 5% RH
Humidity resolution: 1% RH
Power source: 1*AAA (1.5V) battery
Material: ABS
Colour: White+Balck
Dimensions: 105x97x23mm, ( 4 3/16" H x 3 7/8 " W x 7/8" Thick)
Weight: 153g
Package Includes:
1 x HTC-1 Temperature Humidity Meter
1 x User Manual
Best Online Shopping website for Temperature Humidity Meter HTC-1 Digital Humidity Checker Tester Humidity Counter Thermometer Best Hygrometer in cheap price in Karachi, Lahore, Islamabad, Rawalpindi, Peshawar, Multan, Quetta, Faisalabad and all over Pakistan.