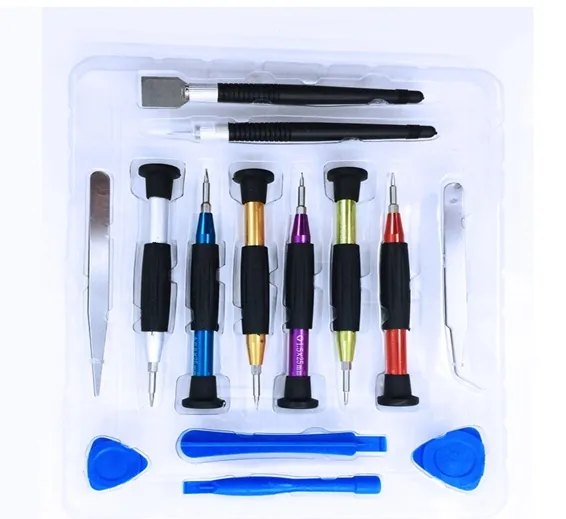 Lights
SW-1688 14 In 1 Mobile Phone Repair Tools Screwdrivers Kit For Smartphone PC Tablet
SKU: TMD5,Th2,KRT
SW-1688 is 14 in 1 Mobile Phone Repair Tools Screwdrivers Set Kit For Smartphone PC Table/ t. This is Anti-slip Handle Design With Magnetic Tips. Mobile Phone Tools Essential For Phone Maintenance And Repairs Exact Fit Precision Machined Tips, Ideal For Accessing Fasteners In Tight Areas. Mobile Phone Repair Opening Pry Tools Set Spudger Tweezer Kit to have these features.
Professional iPhone repair tool kit: To repair your iPhone like Apple iPhone X, iPhone 8 / 8 Plus, iPhone 7 / 7 plus, iPhone 6 plus, iPhone 6s /6/5s/5, etc.
16 Packs Vastar cell phone repair tools: Allow you to take apart of your apple iPhone mobile devices without damage to the phone cover.
High quality: Premium screwdrivers are made of aviation aluminum alloy material with high hardness gold-plated screw head and non-slip design.
Ergonomic design: The repair kit is easy to use, more convenient and efficient for repair.
Warranty: 24 months warranty to ensure good quality and service. Note: A technician or expert is recommended for the installation, our company is not responsible for any damage caused by the installation of this accessory.
Product Features
Color: Multicolored
Practical and user-friendly iPhone repair kit comes with a suction cup that helps you hold the glass cover, which makes it much easier to disassemble and assemble your Apple iPhone devices.
Complete repair tool kits for iPhone repairing, compatible with: Apple iPhone X, iPhone 8 Plus, iPhone 8, iPhone 7 Plus, iPhone 7, iPhone 6 Plus, iPhone 6S /6/5S/5/5C/4S/4/SE, iPod, iTouch.
Professional-grade, light and multifunctional repair kit is perfect for your iPhone
Package Include:
1 x T5 Tor x screwdriver
1 x T4 Tor x screwdriver
1 x 2.0 Straight screwdriver
1 x 1.5 Cross screwdriver
1 x 1.2 Cross screwdriver
1 x 1.2 Star screwdriver
1 x 0.8 Star screwdriver
2 x Triangle paddle
2 x mount bar
1 x straight tweezers
1 x curved tweezers
1 x Graver
1 x Scraper