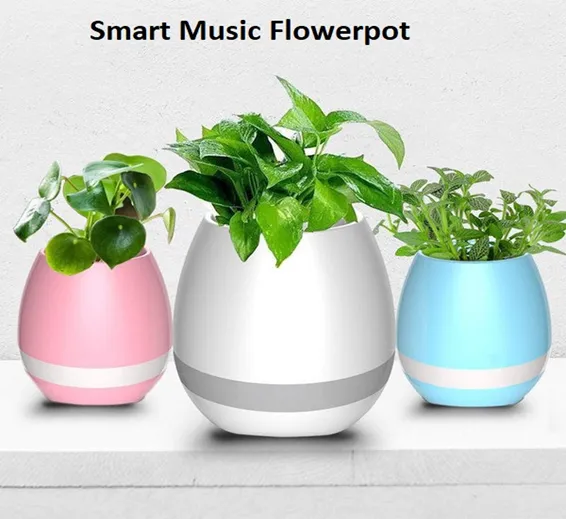 Lights
Smart Music Flowerpot Bluetooth Speaker With Colorful LED
SKU: RAWLIXSma
Can you imagine playing the piano on a real plant!
This is a Smart Magic Piano Plant. Grow your favorite plant in this magic flowerpot. The plant will play a song by every touch on it, just like you are playing piano Meanwhile, a warm ring light will twinkle along with the rhythm. Switch Bluetooth mode, can connect with the BlueTooth device, instantly become a fashionable Bluetooth speaker. The rainbow night light mode, let you have seven colorful life, can apply to different scenes. Colorful LED Lamp is a creative flowerpot full of vitality with the Exclusive Innovation Function. Through the embedded sensors of the soil, the plant on this flowerpot can feel your touch of the plant and return you the lively music & warm light. It's not only a flowerpot that you can pot up to purify air at home or office but also a night light. The Circular Warm LED Light Flowerpot is great for your bedside once you turn it into night light mode
Features:
Flower Pot With LED Light And Built-in Speaker
Built-in multiple pieces of music, free to switch
Different Three Settings Piano, Bluetooth, And Rainbow Nightlight
Gently press the lights to turn on the light(including two kinds of warm light and seven colored breathing lamps)
The plants will play a song by every touch on it
Use Bluetooth To Play Songs From Your Smartphone
It Has A USB Charging Point Where You Can Plug In The Speaker To Charge, It's Not Harmful
Dual high-performance drivers, strong bass without distortion even at the highest volume, you can experience your music in full-bodied stereo
Speaker Mutes Automatically In Case Of An Incoming Call
Play mode or BlueTooth mode, in the case of standby of ten minutes, it will automatically be turned off.
Specifications:
Material: Plastic
Bluetooth version: V4.1
Bluetooth distance: 10m
Speaker: 50mm 5W
Signal-to-noise ratio: 90dB
Frequency Response: 20~20KHz
Battery capacity: 2000mAh
working voltage: 3.7v
Power input: 5V / 500mA
Charging time: 4h
Playing time: 8 hours
Standby time: 12 hours
Product Dimensions:1 14 x 114 x 117 mm
Note!!
This product does not provide real plants, please purchase your own plants
In order to make the product have a better experience, it is recommended that the plant be non-toxic and green
When planting a green plant, be sure to operate under a flowerpot, When the implant is finished, turn on the flowerpot to study for 10 seconds, then play or do something else
Package Include:
1x Smart Music Flowerpot Bluetooth Speaker With Colorful LED
Buy Smart Touch Music Flowerpot Bluetooth Speaker With Colorful LED at Pakistan's Best Online Store at cheap price.Here you get a wide range of Bluetooth speakers.We Deliver in Gujranwala, Karachi, Lahore, Islamabad, Rawalpindi, Multan, Quetta, Faisalabad and all Over Pakistan