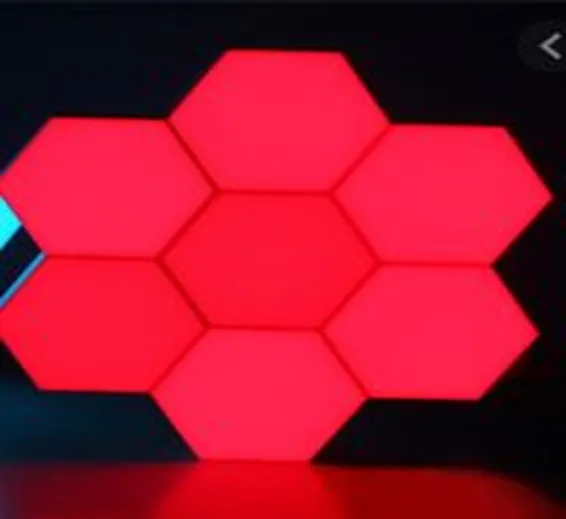 LED Bulbs
Red Touch Light Wall Mount Magnetic Modular (1pc)
SKU: IMP,Th3,KRT134
This is Modular Touch Lights Project Quantum Lamp Touch Sensitive Light also called night light magnetic hexagon you can decorate the wall with these touch light blocks As many as you want for restaurant, marriage hall, home and night light. The product consists of a plastic hexagon, which can be connected with many magnets and interlocking patterns to form a touch screen wall lamp as many as you want.
Touch sensing control:
The wall light is turned on and off by the user's physical touch. A capacitive sensor is used as a switch that turns each component on or off when the user's body touches the surface. This design allows the user to effectively slide where they want or need light.
Specification:
Color temperature: 6500K (RED)
Input Power: AC110-220 V 50/60 Hz
Output Power: DC24V
Plug types include USA, UK, Australia, EU On/OFF: Capacitive touch. Wall accessories: rubber pads or nails
Hand touch opens and closes the panel
Material: high-quality ABS and PC lampshade material makes uniform light, translucent strong.
Enjoy the fun of DIY!!
You can buy many blocks which can be spliced together to make various shapes, Use hexagonal floppy to create any structure to suit your needs,shows gorgeous & amazing effects and create a romantic & joyful atmosphere. Unique geometric shape design, not only lighting but also decorating your house. Widely application It can be placed in the living room, bedrooms, study rooms, dining rooms, hotels, etc.
Wall Installation Method For Different shapes:
Only the central unit optical module needs a rigid connection. We tried a variety of methods, the best solution is to choose nails or only through the back of the mat. The nail is the most reliable connector, and the product will provide a template for placing it. If nails such as glass or tile cannot be used on the surface to be installed, stickers can be used instead of nail connections or in addition to nail connections. Each component can be easily connected to a magnet located at the edge of the Central unit, Hexagonal shapes allowing users to move around the other light plates of the unit module to form different shapes. This process allows users to create lights that meet their needs. Users can buy as many unit lights as possible. Due to the user's physical contact, the wall lamp is turned on and off. Capacitive sensors are used as switches to turn on or off each component when the user's body touches the surface. Turn the interior building into the canvas and let users use their hands as brushes. At present, you can connect 65 modules in the same power circuit. More testing and development will add it. Large screens can be achieved by isolating contact between different lights.
Buy Red Color Touch Light Wall Mount Magnetic Modular at Pakistan's Best Online Store at cheap price. Here you get a wide range of Touch Quantum Fancy lights. We Deliver in Gujranwala, Karachi, Lahore, Islamabad, Rawalpindi, Multan, Quetta, Faisalabad and all Over Pakistan
Package Include:
1x Red Color Touch Light Block